SPOTLIGHT 41
14/10/2019 11:12
Welcome to the Spot Light. Check out the latest psychedelic, cosmic, prog, freakbeat, folk, kraut, experimental, jazz, drone, mystical, and avant-garde sounds! https://www.shinybeast.nl/blog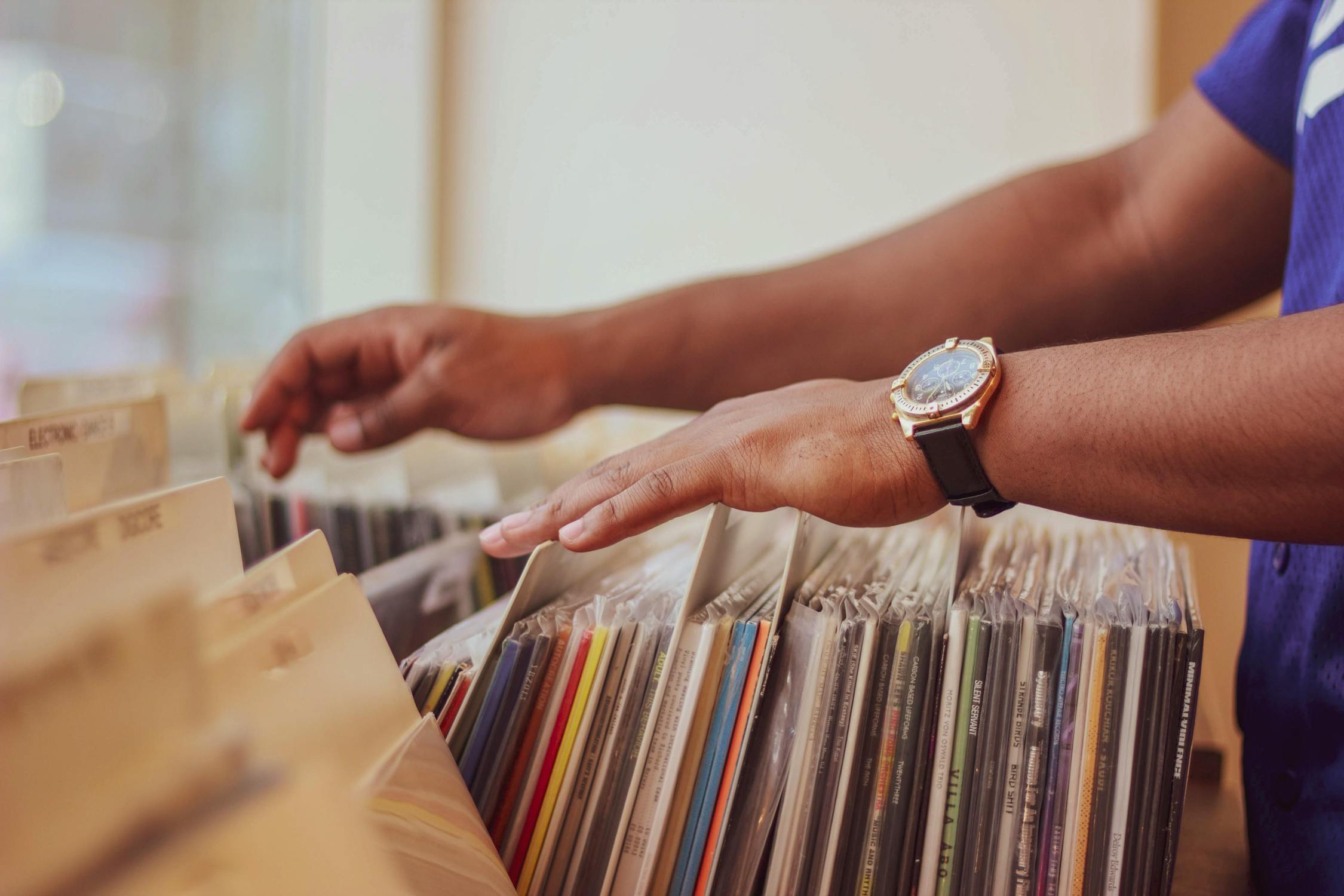 PSYCHEDELIC/PROGRESSIVE/FOLK
Cheval Sombre returns to the vinyl format and continues to delight with his own brand of minimalistic folk pop. This single features Cheval Sombre's trademark hushed vocals and songs about loss and love entwined within soft drones and acoustic tones. These recordings by Cheval Sombre are an experience, an experience to make you feel and be within, the perfect recreational audio high. The drone laden 'Been A Lover' and a minimalistic cover version of Alasdair Roberts' The Calfless Cow were both Recorded in Portugal and mixed and mastered by Sonic Boom. Limited to 300 copies and housed within a risograph sleeve with a hand-numbered postcard.
The Sensation Seekers play Progsploitation! Or to put it another way: cinematic Hammond fuelled freakbeat. Taking their influence from the film cues found in exploitation and underground films of the late '60s and early '70s The Sensation Seekers dabble in a broad church of beat, psych, soul and progressive rock. Originally this music would often be played by middle-aged session musicians cheaply and speedily, their tunes to be quickly forgotten, even by the very people who created them. Ravencraig Studios have painstakingly recreated this enviroment with The Sensation Seekers (who have a collective studio experience amounting to well over a century) and over a series of LPs hope to bring you an original soundtrack of Hammond organ, fuzz and wah guitars underpinned by funky rhythms to turn your party into a movie hippie happening or drug fueled orgy. 'Monkey Paws' is an original, on the b-side you'll find a version of Nite People's 'Creme Tea'.
Originally released in 1971, a fine progressive album featuring former members of Welsh psychedelic band Eyes Of Blue sees a deserved reissue on 140-GRAM BLACK VINYL, including an insert.
A highly regarded US psychedelic album, originally released by Capitol in 1969, gets reissued on 140-GRAM BLACK VINYL. The Common People had a very unique style, which was mellow, moody and intense (or even heavy, in a way) at the same time. The LP was produced by Tim Hudson (a.o. The Seeds, The Lollipop Shoppe) and arranged by David Axelrod. This special edition comes with liner notes and a free CD featuring four non-album bonus tracks!
The second album by the legendary Green Ray featuring members once in Help Yourself and Man. A lovely album full of stinging and psychedelic San Francisco-tinged guitar work that John Cippolina would have been proud of. This is one incredible UK/West Coast hippie-psych gem. Limited to 300 copies.
Debut full length by this stoner metal band from Kelowna, Canada. Hemptress is like being saddled on a beastly rock'n'roll engine trailed by flaming tumbleweeds down a southern psychedelic desert highway, fresh outta hell with the devils tears in a hip flask, riding high with a crooked grin while Lady Luck kisses your neck and the wild wind wonders where you've been.
Marco Fasolo and Jennifer Gentle are officially back with their 2019 self-titled album. Immaculately produced by Fasolo himself, it's a sprawling, full-bodied release touching all of Fasolo's musical obsessions: it effortlessly bounces from a breezy soul glam, goofy funk, intricate baroque ballads, Joe Meek-like instrumentals and the trademark JG zippy psychedelia, without ever losing its focus on mood and detailed song construction. By far their most complete and accessible album, Jennifer Gentle is above all an immersive listening experience and new evidence of Fasolo's songwriting, arranging and producing unique abilities: a sometimes pensive, sometimes joyful musical parade to be absorbed as a whole.
Reissue of 300 copies on red vinyl. The Lee Van Cleef project started as a joke at the end of 2015 and is the result of long jam sessions featuring guitarist Marco Adamo (La Polvere di Bodélé), drummer Guido Minervini (Efesto, Lamarck) and bassist Pietro La Tegolas (Whiskeycold Winter). Influenced by bands such as Earthless, Black Bombaim and Harsh Toke (to name a few), their first work 'Holy Smoke' was recorded, mixed and mastered in the Godfather studio in Naples. The artwork was done by Robin Gnista.
This Chilean band describes the style of their music as 'ImproWeed' (apparently they are partial to the odd herbal cigarette), a mixture of psych, stoner-rock, krautrock, jazz and improv. Whereas their last record, ('Atlantis Mirage' released in January 2019 on DRR), had an underwater theme and accompanying aural vibe, 'Rise Of The Melted Eagle' is pure fire with a much more uplifting sonic bombardment. This double vinyl album really is the full package and highlights a band on top form who are able to meld a mixture of styles and genres to create a soaring masterpiece. Pressed on red vinyl and housed in a gorgeous gatefold sleeve with the most splendid artwork supplied once again by Andrea Nakasato (and, boy, has she outdone herself this time around!). Order fast!
Makajodama is the unusual name for this young instrumental quartet from Sweden. The band was formed by Mathias Danielsson, guitarist for the progressive rock band Gösta Berlings Saga. In the course of searching for another avenue to express his own musical ideas he met Mattias Ankarbrandt, the former drummer of The Carpet Knights. Their goal was to blend both written and improvised music. Through the walls of the cellar of Mathias' rehearsal studio, he could hear someone practice violin everyday, and since some of his new ideas included strings he decided to find out who the player was. After a month searching, they located their man Johan Klint who immediately joined Mattias and Mathias. As luck would have it Johan knew a cellist, Karin Larsdotter, who was also interested in improvisation as well and she came onboard, rounding out the quartet. The band invited Anekdoten's guitarist, Nicklas Barker, to mix the album. Makajodama's debut is a direct reflection of the quartet's influences: Third Ear Band, Univers Zero, Swedish psych pioneers Älgarnas Trädgård, the kraut rock spirit of Can and Faust, and Swedish contemporary composers Karl-Birger Blomdahl and Allan Pettersson. The result is a unique collision of progressive and post rock that sounds like the musical offspring of early King Crimson and Godspeed You! Black Emperor. Limited to 300 copies on black vinyl.
Long ago in Long Island, the same place that gave birth to the like-minded Vanilla Fudge, an obscure group that went by the name of Odyssey released an equally obscure LP called 'Setting Forth'. It was issued in a very tiny private run and packaged in a plain white sleeve. No surprise this one didn't make it into the national album-charts. However, as years went by, more and more collectors whispered about this mysterious world class 1969 heavy-guitar psych-rock album, resulting in a couple of welcome reissues. Now, for the first time in a decade, 'Setting Forth' is back on vinyl, complete with a printed sleeve and an insert featuring photos and liners!
First reissue of this super rare album with help from band member Eben Henson. Uriah Heep meets the southern rock genre in this terrific private pressing from Kentucky. Th title cut is massive and should be a staple on all play lists! All copies sealed in shrink... Limited to 500 copies, will sell fast!
Amazing spacerock from Arizona. Stunning recordings from Lesli Wood (Cobra Family Picnic) and Daniel Martin Diaz (Trees Speak, Amelia Poe), joined by a string of guest musicians including Vicki Brown, Ben Nisbett, Gabriel Sullivan, Julius Schlosburg, Damian Diaz and Michael Glidewell. The recording sessions were lit by candlelight and shrouded in incense smoke, establishing the mood for composition, calling to mind a gothic cathedral, largely filled with early analogue synthesizers.
The synth wave that's been hammering Ektroland in recent years is now banging at the door of Pharaoh Overlord Synthesizer Club with ear-splitting frequencies soaring down across the Moog bass lines. A concoction of dystopian anthems - a cauldron of Neue Deutche Welle storm - prepared by Tomi "Florian" Leppänen and Jussi "Ralf" Lehtisalo, '5' marks the arrival of the band's brave new duo lineup. Ingredients: Suicide, Nena, La Düsseldorf, Lonnie Holley. Limited to 350 copies on black vinyl.
Recorded in early 2010 during winter break from the Flaming Lips' Embryonic tour, Pink Purple features then-drummer Kliph Scurlock and John Huff. Borrowing mics from the band, Kliph and John set up an army of analog synths and other vintage equipment to create Pink Purple 'Red'. This unreleased album highlights the bands encyclopedic knowledge of classic British rock/prog/psych throughout the tracks. Cover artwork by designer Dave Thomas (Mogwai, Vashti Bunyan). These recordings have never been released and will only be available for Black Friday 2019. Includes download with 3 bonus tracks. Pressed at RTI. Limited to 1000 copies.
Seiche formed in Chicago as a recording project to show off the skills of the musicians and the engineer. The resulting record Seiche - 'Demo Press' LP was a hard psych prog record released in 1981, that sounded like it came straight out of 1973, but was mostly unavailable, due to its extremely limited release (50 printed copies). Inspired by psychedelic rock and fresh out of high school, Seiche melded the often disparate worlds of histrionic hard rock soloing with some of the more skewed elements of full-blown psychedelia. This Jackpot release pulls out all the stops, sourced from the original masters and loaded with archival and bonus materials. Don't miss out this time around!
'Kozmik Koon' features a wild mixture of psychedelic rock, electronica and trippy soundscapes, which is still the leading direction for Zone Six. But these tracks also rock a lot. Cover painting by Ulla Papel, layout by Lulu Artwork. TRACKS: 1. Maschinenseele (12:53) 2. Kozmik Koon (10:58) 3. Raum (03:28) 4. Still (03:37) 5. Song For Richie (13:52)
GARAGE/BEAT/SURF/ROCK'N'ROLL
2019 single by these Greek garage veterans, who started up in 1994 inspired by US and European sixties garage, beat and R&B as well as the eighties garage revival. The Frantic Five only seem to get better with age, and on their 16th release they have served up two tough, catchy and moody garage hits.
The UK's No. 1 rockabilly hitparader and founder of the legendary Polecats got together with The Jungle Tigers to record a real wild rockin' 4 track 7" vinyl mini album. This one will kick you out of your shoes!
Austria's no. 1 rockabilly band Crazy Cubes celebrate their 25th anniversary with their fantastic, wild and hot rockin' album 'Rockabilly 25 Years'. A great uncompromising straight rockabilly album, that leaves no doubt: after 25 years rockin' all over Europe, The Crazy Cubes are still on top!
Debut LP by Norwegian five-piece influenced by all kinds of garage rock, as well as some indie pop/rock and the post-punk/new wave era, all wrapped up in punk energy.
After twenty years The Stems returned in 2007 with their long overdue second album 'Heads Up'. It was almost as if they were never gone. Not only the same line-up remained, but also the same energy and excitement. The heady mix of garage rock and power pop makes for a fun and easily listenable sound. Think The Kinks crossed with The Jam and maybe a little Velvet Underground thrown in for good measure. For the first time ever released on vinyl. Only 500 copies have been made.
After the albums 'Live, Love & The Devil' and 'Sweet'n'Honey' this great Austrian harmonica/guitar duo presents their first album with only self-penned tunes. From bluesy to hot rockin', The Lettners fill out the full spectrum of their original Jim-Bumm music.
Directly from the USSR, Red Elvises rockin' around the Kremlin! 17 cool rockin' tracks from surf to rockabilly one this fantastic CD album.
POP/ROCK/WAVE/NOISE
'Show', the debut record of Petersburg (ft. ex-members of Palio Superspeed Donkey, Canshaker Pi and Torii), was recorded in a fews days at the end of 2018. The recording process was pleasant and satisfying. Nothing was prepared, the songs were made with only guitar tunes as the foundation and the excitement to create something out of them.
PUNK/HARDCORE
Official reissue of seminal Japanese hardcore band The Comes' debut. Originally released in 1983 on Dogma Records, a newly created City Rocker's side label to release hardcore/hard punk, 'No Side' remains a milestone of first wave Japanese hardcore. A vital document to understand the days when the Tokyo hardcore scene was small and unknown with G.I.S.M., Execute, Gauze and The Comes as main runners. Bands who shared stages, record labels and who grew to be one of the most varied, influential and enigmatic punk scenes of the planet. The Comes' music is frantic and sharp punk, bass driven and manic sounding with vocalist Chitose's aggressive vocals punctuating every syllable and dominating the tunes. Like most first wave hardcore acts they own their own sound and albeit many times imitated it has never been matched. The 'No Side' reissue comes in a heavy paste on board textured sleeve and includes a replica lyric insert.
The completely remastered Iconoclast discography including the immense self released 1983 demo, The Flipside 7" from 1985 plus two compilation tracks. It's a small but perfectly formed discography and one that 36 years after it was first recorded still has power, intensity and rage. Iconoclast were part of the early '80s American peace punk scene that included Crucifix, Body Count, Against, Another Destructive System, Diatribe, Armistice and A State Of Mind. Idealistic bands highly influenced by Crass which shined amongst the heavily nihilistic California punk scene of the era. Iconoclasts' sound was in tune with Discharge, early Antisect or Wretched while lyrically the songs were political and to the point. They played benefits for animal rights, anti nuclear, anti apartheid, anti police brutality, and Big Mountain. The demo was followed by their only vinyl release on Flipside which has two ragers and the more mellow 'In These Times' which has a touch of The Mob and Omega Tribe about it. The band had tracks on various compilations including the seminal 'International P.E.A.C.E. Benefit' LP on R Radical in 1984 which had the cream of the crop of international hardcore punk of the heyday. 'Domination Or Destruction' comes housed in a heavy reverse board sleeve and includes a 24 page 11"x11" booklet containing interviews, photos and flyers from the era documented, 1983-1985, which will help understanding the band's ideas and the local scene of the era.
INDUSTRIAL/EXPERIMENTAL/NOISE/NEOFOLK/GOTHIC
One-sided LP. The collection 'Works 2016-2018' includes the first three electro-acoustic compositions created during the academic years, a period in which the algorithmic computer programming technique was learned using the Wolfram language in the domain of the Mathematica software. This technique involves the construction of sound on a mathematical-computer level taking into account the structural parameters of the sound itself, such as: attack times, duration, intensity, height, envelope and spatialization, using granulators, additive synthesis and subtractive synthesis. Limited to 300 copies.
METAL/STONER/HARDROCK
Ball is back from the grave! The disturbed, smut peddling, slime hardrock-psych band makes a triumphant return from the deepest pits of hell, soaked in bloody diabolical occult havoc. Ball now announces a new one of-a-kind release that boldly pays homage to everything Satanic. A unique, limited edition of 500 copies, flexi-disc single record combined with a beastly behemoth 384 pages hardcover deluxe art book, cram packed with a visual testament to Ball's unholy desires. During the height of the turned-on 1960s and '70s occult explosion even the under the counter men's magazines got in on the act and began a surreal exploration of the haunting netherworld of witchcraft and Satanism. This monumental art book reveals a world of diabolical smut that was so compelling and obscure that many people today would actually question whether or not the magazines were real or just an elaborate and detailed modern photo editing invention. Well, they are real, and they are spectacular! These magazines are in fact, out there in the world. They are collecting dust in attics, basements, and garages. Hidden away from sight. Unsavory treasures deemed too filthy and then forgotten by their lustful owners. This massive 384 pages deluxe hardcover book is a glimpse into a vast and shocking world that still remains virtually unknown and unexplored. These artifacts come from a bygone era promoting sexual revolution and freedom with overt and unholy occult themes. If you have any issues with hardcore witchcraft and Satanism, body hair or nudity, don't pick this release up and quickly get it out of your sight, and forget everything we've mentioned. Just remember life's too short to take everything so seriously. Flesh is beautiful. It's time to descend into the infernal witches' cauldron and deep down into the hellish pit for a real Black Mass. Educational material for adults only. Sale to minors prohibited.
'Itse', the 2001 starting point of Finnish black metal band Ajattara's career, finally makes its vinyl debut. Limited to 300 copies only.
JAZZ/AVANTGARDE
'Duos' is a document of the many musical acquaintances that bassist Peter Kowald experienced in the six years between 1984 and 1990. This 3LP set compiles improvisations and composed pieces recorded in Europe, America and Japan. The box -long out of print- includes liner notes by Peter Kowald and recording details for each track. Among the featured artists are Evan Parker, Toshinori Kondo, Derek Bailey, Diamanda Galas, Jeanne Lee, and Julius Hemphill. This is a highpoint in Be! Jazz's reissue series of long-lost classics from the legendary vaults of FMP Records, presented in restored original packaging, newly remastered for optimal sound - and pressed on CLEAR VINYL in a limited edition of only 200 copies!
A ground breaking free jazz unit, Perception consisted of Hungarian saxophonist Yochk'O Seffer, German pianist Siegfried Kessler, French bassist Didier Levallet and Franco-Vietnamese drummer Jean-My Truong. This vinyl-reissue of Perception's 1973 full-length 'Mestari', originally out on the French label Le Chant Du Monde, comes with remastered audio and a 4-page booklet featuring unpublished photos and an essay by Didier Levallet.
A ground breaking free jazz unit, Perception consisted of Hungarian saxophonist Yochk'O Seffer, German pianist Siegfried Kessler, French bassist Didier Levallet and Franco-Vietnamese drummer Jean-My Truong. This vinyl-reissue of Perception's 1971 debut-LP, originally out on the French label Futura, comes with remastered audio and a 4-page booklet featuring unpublished photos and an essay by Didier Levallet.
A ground breaking free jazz unit, Perception consisted of Hungarian saxophonist Yochk'O Seffer, German pianist Siegfried Kessler, French bassist Didier Levallet and Franco-Vietnamese drummer Jean-My Truong. This vinyl-reissue of Perception's 1973 full-length 'Perception & Friends', originally out on the French label A.D.M.I., comes with remastered audio and a 4-page booklet featuring unpublished photos and an essay by Didier Levallet.
ELECTRONIC MUSIC/AMBIENT/D'N'B/TRIPHOP
Jonathan Sharp's HI project continues it's fascination with the world of '70s counter- culture. The hippies, the bikers, the occultists, the idealists and activists. From Amanda Feilding and her self-trepanation, the Albion Fairs and the Pop Festivals, the rural idyll of Findhorn to the fragmenting Ballardian cities choked with uncollected rubbish. Another wonderful record of often otherworldly, earthy, organic electronic music interspersed with sampled narrative passages. Always fascinating and to these ears, occasional forays into horror soundtrack world, reassuring for fans of previous HI output for sure. Like 'Secret Rites', this record features another superb Nick Taylor sleeve design; inside and out jacket print, in top loading reverse board sleeves. Released in an edition of 300, sure to sell out immediately.
SOUNDTRACKS/LOUNGE/CULT ETC
Polytechnic Youth teams up with Morecambe's Horror Pop Sounds imprint to release -for the first time- and from the vaults of the Polish Radio Experimental Studio, 'Smile Eyes And The Children Folk'. 'Usmiechniete Oczy I Dzieci' (original Polish title) was briefly aired on Polish TV in the summer of 1983. A bizarre and surreal show aimed at children; it was pulled from transmission after the first series for a variety of understandable reasons. The story told of a small rural community of children (all the adults had vanished inexplicably) who worshipped a mythical figure called 'Smile Eyes' residing within a giant mushroom cluster. The children must, at all times, adorn a variety of odd masks which reflect their status within the community. The show is somewhat forgotten now, yet there are a number of (now) adult groups that regularly gather to celebrate this brief curiosity from their youth. The soundtrack is by little known Polish TV composer Szczepan Buczkowski who, after many years of serving up bland jingles and incidental music for TV, was finally freed to unleash his array of talents, and collection of Soviet built synthesisers to full effect. He composed a woozy soundtrack of early '80s synth goodness, where moments of beauty and terror burst out of the murk to create a mood of mystery and menace. Buczkowski also utilised the Polish Television's youth choir, subtlety weaving them into this incredible soundtrack. The disquieting leitmotifs contribute to the truly disturbing effect the show had on young TV audiences. A fantastical piece of work that has finally been unearthed by the Polish wing of Horror Pop Sounds in their quest to release long forgotten TV and film productions. Comes on transparent red vinyl with full original artwork from Telewizja Polska and includes full colour A4 original Polish TV studio print. Restored and mastered by Stephen James Buckley. This album is sure to appeal to aficionados of Krzysztof Komeda, Lubos Fiser, Andrzej Korzynski et al. 300 copies only to the world.
Blog
Previous editions:
30/06/2020 10:32 SPOTLIGHT 26
22/06/2020 10:20 SPOTLIGHT 25
15/06/2020 11:08 SPOTLIGHT 24
08/06/2020 10:15 SPOTLIGHT 23
31/05/2020 16:26 SPOTLIGHT 22
25/05/2020 15:32 SPOTLIGHT 21
19/05/2020 07:59 SPOTLIGHT 20
11/05/2020 18:28 SPOTLIGHT 19
05/05/2020 08:01 SPOTLIGHT 18
27/04/2020 10:30 SPOTLIGHT 17
20/04/2020 13:59 SPOTLIGHT 16
14/04/2020 07:50 SPOTLIGHT 15
06/04/2020 17:10 SPOTLIGHT 14
30/03/2020 18:16 SPOTLIGHT 13
22/03/2020 16:54 SPOTLIGHT 12
12/03/2020 14:26 SPOTLIGHT 11
09/03/2020 10:53 SPOTLIGHT 10
02/03/2020 13:13 SPOTLIGHT 9
24/02/2020 13:48 SPOTLIGHT 8
17/02/2020 10:40 SPOTLIGHT 7