SPOTLIGHT 32
09/08/2019 12:50
Welcome to the Spot Light. Check out the latest psychedelic, cosmic, prog, freakbeat, folk, kraut, experimental, jazz, drone, mystical, and avant-garde sounds! https://www.shinybeast.nl/blog
PSYCHEDELIC/PROGRESSIVE/FOLK
Recording a solo album in 1969 allowed Troggs guitarist Chris Britton to take a greater artistic freedom, though 'As I Am' didn't veer too far from The Troggs' standard blend of poppy psychedelia and garage rock, constructed with a particular English bent. Yet, with Britton composing all of the songs except one (his version of Larry Weiss' 'Evil Woman'), the material is surprisingly varied, with opener 'Sit Down Beside Me' and tracks like 'Fly With Me' are rocking grooves with bright brass, Latinesque percussion and a bit of psychedelic phasing, while 'No Sense In Hiding' is a slinky blues and 'Sleep My Love' is pure dreamy psych. A rare and underappreciated gem that will appeal to all Troggs fans and lovers of British psychedelia more generally.
Following their explosive debut that received praising reviews in Greece and abroad, CHICKN return with their highly anticipated sophomore album, entitled "WOWSERS!". The album consists of nine acid glam elegies that ooze with West Coast vibes blended with proto-punk explosions, unfolding their agitated collective psyche. Lyrical horns, hooking vocal lines, alluring percussion, whimsical drumming, arcade guitar riffs, sensual basslines and ankle-played keyboards blend in together and escalate into meteoric freak-outs with no alarms.
Official authorized reissue of the legendary psychedelic LP by Christopher from South Carolina. One of the absolute best American psychedelic LPs of the 1960s, and one of the rarest: a copy went for close to $4,000 the last time an original copy sold online, and nearly double that changed hands off-line for an original! Every song is of the highest quality, they're all self-penned too, with an accessible sound the suggests that Christopher could have had more widespread success had they ever made it out of their native South Carolina. The 'What'cha Gonna Do?' album was pressed in 1969 to use as a demo (which is why as few as 100 copies exist), but you'd never know it based on the overall quality of the production. When you've got blistering acid rock mixed with acid blues, with a couple of thoughtful melodic songs for good measure, you've got a recipe for something special.
For a laidback, surreal take on '50's doowop, exotica, 'absurd calyso' and various earthling musics in between, the Dubi Dolczek band, led by the vocal stylings of Dubi himself, are a unique prospect. Apply some Stasis-Gel and hop aboard for a treat. Their album "Dubi In Space Pt2" continues the adventures of these roguish mavericks as they make their way to the Cat's Paw Nebula.
Dury Dava is a five-piece band from Athens, Greece. Their debut self-titled album was recorded live during several sessions in the second half of 2018 at Hobart Phase Studios. Several compositional trajectories are employed, drawing inspiration from a wide variety of places. Their music pays tribute to the raw grit of 60's psychedelia and 70's krautrock, and fuses elements from the Greco-Turkish musical traditions such as odd rhythms and folk dances with a punk mentality, resulting in an amalgamation of contemporary experimental rock with heterogeneous throwback underpinnings. Includes download card.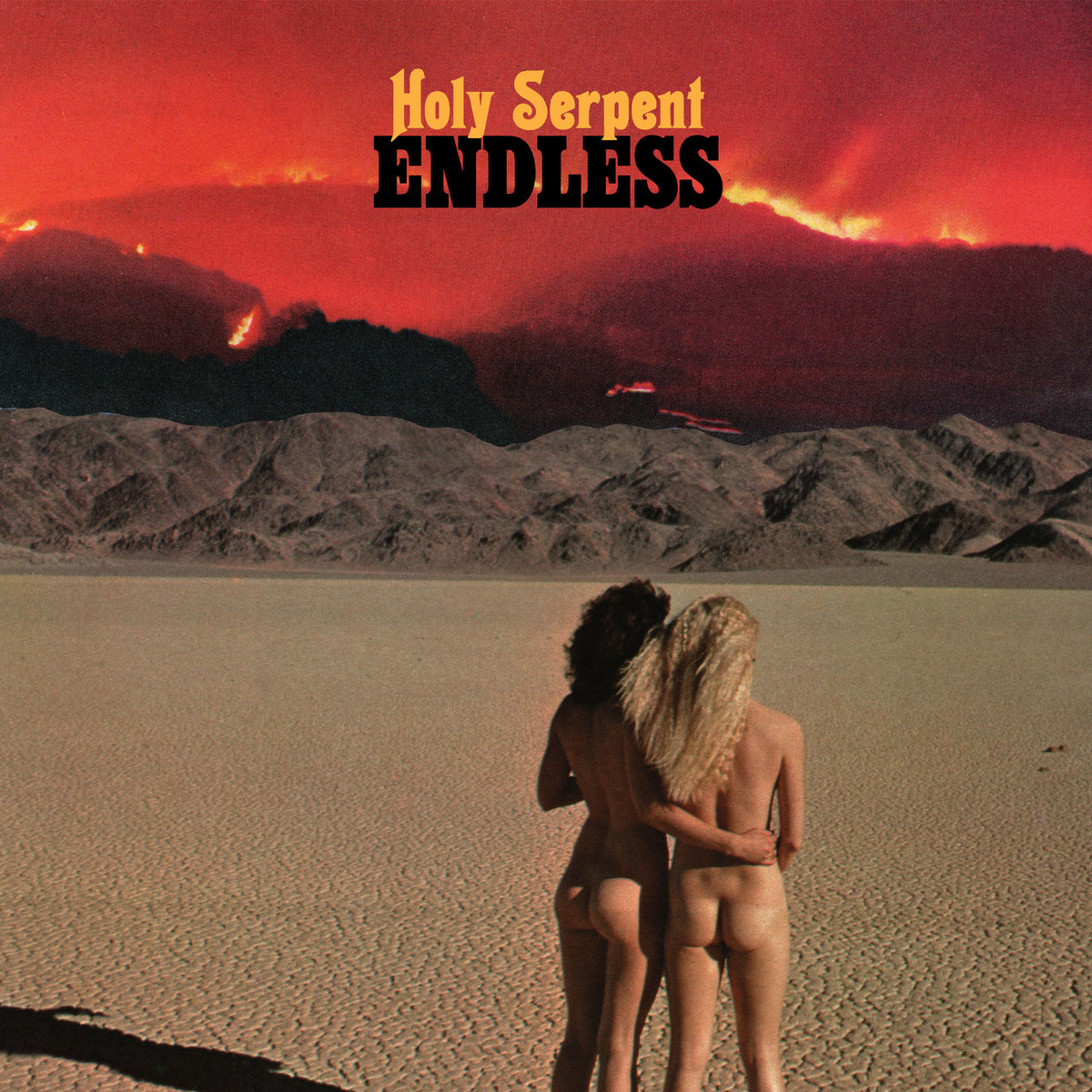 The third album by Melbourne, Australia's Holy Serpent could likely be its defining moment. Seemingly bottomless in its relentless heft, with billowing and suffocating riffs leading glistening melodies, it's the sound of a band that has locked on to something unique. 'Endless' is fully conceptualized throughout, encapsulating an oceanic theme from the lyrics and art, even to the very structure of the sounds themselves.
Fabled British prog-rock band Steel Mill was formed in Wandsworth, a working-class district of south London, during the late 1960s. After singer/keyboardist David Morris began working with saxophonist/flautist John Challenger, who had played with folk group The Garret Singers, the initial Mill line-up was completed once they were joined by former Roadrunners' Colin Short on drums, Derek Chandler on bass and Terry Williams on guitar. The nascent band rehearsed for about one year, before cutting demos in April 1970. Their pensive sound remained miles away from the British blues sound that dominated London then, though there was the occasional hardrock element beneath their pastoral prog. "Green Eyed God" remains an enticing slice of little-known prog, unjustly ignored at its time of creation.
Australian heavy psychedelic space rockers, Comacozer return with their 2019 full length release titled 'Mydriasis'. Since 2015, Comacozer has been unearthing instrumental meditative and journey taking passages and intense dark and murky acid filled jams. With the addition of a 4th member on synth in 2018, its now a trippier version of itself. 'Mydriasis' is Comacozer's fourth full length release and consists of three epic journeys of hypnotic, liquid, spaced out jams, taking you on a cathartic trip into a nebula and will leave you floating through the other end of the universe. Perfect for psychonauts who want to space-travel and ultimately get crushed by the weight of asteroid. 'Mydriasis' is an album to both meditate to and conquer to. Ethereal psychedelic space in between celestial walls of fuzz. Get ready to be overcome by the molten mountain that will slowly fill the room. With the amazing artwork by Sally Gordon on this release, the entire package of the tracks and gatefold sleeve is mind bending! Drop the needle, close your eyes, lose your mind and take a journey thru space and time. CD comes in digipack.
GARAGE/BEAT/SURF/ROCK'N'ROLL
This ultra cool 2019 release from the hugely popular German garage-punk'n'rollers The Cellophane Suckers is pressed on 12-INCH WHITE VINYL and spins at 45rpm. We get nine tracks, including covers of songs known from The Bored and Wipers.
'Sonic Fish' contains 12 freshly recorded tracks from Emptifish, featuring The Damned's legendary Rat Scabbies on drums on four tracks! The CD comes in a digipack.
POP/ROCK/WAVE/NOISE
Prins Obi is not alone this time. The self-titled album of Prins Obi & The Dream Warriors is the debut of the Athenian underground supergroup (with members of Baby Guru, The Voyage Limpid Sound, Chickn, Montero band, A Victim of Society) and at the same time the third complete solo work by Prins Obi.
The ultra-rare various artists release 'The Signal To Noise Set', issued in small numbers in 1984 on London's short-lived Only A Revolution label, showcased the Australian variant of minimalist wave, analogue synth-pop. The eleven exclusives featured on the compilation are all prime examples of Australia's synth band underground, and although each group was totally unknown outside of their sphere of influence, some have gone on to attain legendary status. TRACKS: 01. Informatics - The Great X-1 02. Modern Jazz - Radio Scream 03. Dono-Detti - Man Unlimited 04. Second Glance - Shackles & Chains 05. Software Seduction - Try 06. Shanghai Au Go-Go - Talk Back 07. Dono-Detti - Flesh And Steel 08. Into The East - I Stand Still 09. Nuvo Bloc - Living Brigade 10. Human Backs - Frankenstein 11. Dono-Detti - Forbidden
PUNK/HARDCORE
This 7" is their first release since 1984!
If "Ahristi Genia (Useless Generation)" surprised everyone with the directness of Greek lyrics and "Zougla (Jungle)" made clear the band's intention to move forward and experiment, "Zero Hits" is determined to sweep everything away and definitively and irrevocably confirm that we are dealing with a great band. Recorded at Electric Highway Studio with sound engineer band member John Vulgaris and produced by the band themselves, "Zero Hits" is one big hit. Includes download card.
Originally known as The Rezillos (with a 'z' that is), Scottish classic rock'n'roll, '60s beat and B-movies influenced sci-fi punks The Revillos (with a 'v', that is) released their second (and final) full-length under their 'new' moniker in 1982. That ace collection of ultra catchy, hook fueled, day-glo, bubble gum punk-wave is now reissued on vinyl! A fold-out poster is included!
Originally known as The Rezillos (with a 'z' that is), Scottish classic rock'n'roll, '60s beat and B-movies influenced sci-fi punks The Revillos (with a 'v', that is) released their first full-length under their 'new' moniker in 1980. That ace collection of ultra catchy, hook fueled, day-glo, bubble gum punk-wave is now reissued on vinyl!
INDUSTRIAL/EXPERIMENTAL/NOISE/NEOFOLK/GOTHIC
Freedom Candlemaker is a direct translation of the Greek-Cypriot singer-songwriter Lefteris Moumtzis' name into English. His album 'Beaming Light' is the culmination of his extensive musical journey and is aiming to reach far and wide and make his music known to an international audience. "Beaming Light" marks a departure from the artist's previous output both sonically and symbolically. The album was mainly recorded in Athens and is produced by Alex Bolpasis, one of the brightest young producers in Greece and also long-time friend and collaborator of Lefteris. Includes download card.
Noises and songs for the intrepid. Kallabris still is in a singing mood and croons his way down the roads not taken. Electronic shivers, acoustic shakes, cheap beats, and a 1000 volt voice: That is the formula that makes your needle dance through the grooves of this record. A look back in anger down Nevsky Prospekt. "Kallabris ultimately sounds like Jhonn Balance and Sleazy in a proper, slippery afterhours Coil session." ~Boomkat.
ELECTRONIC MUSIC/AMBIENT/D'N'B/TRIPHOP
Prog/doom drummer Andrew Prestidge branches out into the field of electronic music with his solo synthesizer project Morlock. After several years spent holding down the drum stool with legendary doom metal acts Angel Witch, Electric Wizard and Warning, as well as progrock bands Zoltan, The Osiris Club and Suns Of The Tundra - Andrew sat down with his keyboard collection and a 4-track recorder to create a new kind of music. The space-rock jams contained on 'Ancient Paths' are influenced as much by retro synth artists Kraftwerk, Heldon, Tubeway Army and OMD as they are by the sci-fi soundtracks of John Carpenter. Andrew's previous experience in live soundtracking silent films and reworking vintage horror scores with Zoltan guide the expansive, all-instrumental melancholy of the record. Acoustic guitars, analog synthesizers and electronic percussion coalesce into a retro-futurist soundscape for the mind's eye.
SOUNDTRACKS/LOUNGE/CULT ETC
Originally issued in 2011, "Ashcan Copy" is the third instalment in Rashomon's film music series on vinyl. Active since 2009, Rashomon is the solo project of Matt Thompson. This is his second release on the label under the Rashomon name, following 2014's LP/DVD "The Cameraman's Revenge: Film Music Vol. 4". All the music is self-composed. The eight tracks include elements of noise, folk, psychedelia, prog and noir-jazz within their elaborate constructions. Delicate and sensuous, heavy and oppressive.
Blog
Previous editions:
31/07/2020 09:09 SPOTLIGHT 31
27/07/2020 18:20 SPOTLIGHT 27 + 28 + 29 + 30 part 2/2
27/07/2020 17:56 SPOTLIGHT 27 + 28 + 29 + 30 part 1/2
30/06/2020 10:32 SPOTLIGHT 26
22/06/2020 10:20 SPOTLIGHT 25
15/06/2020 11:08 SPOTLIGHT 24
08/06/2020 10:15 SPOTLIGHT 23
31/05/2020 16:26 SPOTLIGHT 22
25/05/2020 15:32 SPOTLIGHT 21
19/05/2020 07:59 SPOTLIGHT 20
11/05/2020 18:28 SPOTLIGHT 19
05/05/2020 08:01 SPOTLIGHT 18
27/04/2020 10:30 SPOTLIGHT 17
20/04/2020 13:59 SPOTLIGHT 16
14/04/2020 07:50 SPOTLIGHT 15
06/04/2020 17:10 SPOTLIGHT 14
30/03/2020 18:16 SPOTLIGHT 13
22/03/2020 16:54 SPOTLIGHT 12
12/03/2020 14:26 SPOTLIGHT 11
09/03/2020 10:53 SPOTLIGHT 10