SPOTLIGHT 26
01/07/2019 10:57
Welcome to the Spot Light. Check out the latest psychedelic, cosmic, prog, freakbeat, folk, kraut, experimental, jazz, drone, mystical, and avant-garde sounds! https://www.shinybeast.nl/blog
PSYCHEDELIC/PROGRESSIVE/FOLK
Originally released in a limited run of 1.000 numbered copies in December 1974, the LP by The Alice Island Band is one of the rarest UK private press underground folk LP's. Including songs that were written as early as 1968, this lovely reissue (edition of 500 copies with reproduced artwork) is highly recommended to fans of Peter Howell and John Ferdinando's projects (Tomorrow Come Someday, Alice Through The Looking Glass, Agincourt, Ithaca...), the raw sound of Comus, and everything in between!
From the depths of Argentina come The Black Furs. These sonic sludgelords are creeping in your back door and touching you in all the right places at just the wrong time. Heavy psych, blues and doom rock. Comes on clear blue vinyl.
When listening to this dark doom/blues masterpiece you will experience many feelings all at once. Is it a Spaghetti Western? A funeral? An exorcism? Or ex-lovers penetrating your dreams? It is all of these things. Compelling, groundbreaking, new and old, fucking incredible. From Russia come Lunar Funeral. They are showing you the way to the void. Jump on in and enjoy the doom. Guaranteed to lose your mind in a sea of murky fuzz. Limited to 150 copies.
Shortly before forming Slapp Happy (with Peter Blegvad and Dagmar Krause), British experimental musician, composer, performer and producer Anthony Moore was part of Berlin's boiling experimental scene. In that period he cut two interesting LP's for Polydor, sounding like the missing link between British art-rock and German krautrock! Here's a fine reissue of the first of those albums, originally released by Polydor in 1971. This edition is limited to 500 copies with reproduced artwork.
Shortly before forming Slapp Happy (with Peter Blegvad and Dagmar Krause), British experimental musician, composer, performer and producer Anthony Moore was part of Berlin's boiling experimental scene. In that period he cut two interesting LP's for Polydor, sounding like the missing link between British art-rock and German krautrock! Here's a fine reissue of the second of those albums, originally released by Polydor in 1972. This edition is limited to 500 copies with reproduced artwork.
The second full album by Paul Orwell has arrived and you are in for a mahhussive treat! The second pressing also comes on coloured vinyl (normal weight), but is housed in a single sleeve. You know with Paul you are going to get sincere, full-on, totally committed rock and roll and that is certainly the case here. Featuring the two singles 'I'll Be Your Murderer' and 'Speak Of The Devil'. Get on board the Orwell express....
First legitimate reissue of one of the best US private press hard rock/progressive rock albums of the 1970s, from the master tapes. Only 250 copies available. Formed in 1969 in Houston, TX, Oz Knozz's original crew included multi-instrumentalists Jack Alford, Bill Massey and Duane Massey. Alford left the group in 1971 and was replaced by drummer Marty Naul, while the next year the trio was joined by guitarist Richard Heath. The band had also a three-man horn section, which was dropped quite fast, although horns remained a part of the band's sound, even on their rare and epochal 1975 private press debut 'Ruff Mix,' released on the band's own Ozone label. 'Ruff Mix' mainly grooves in hard rock territory, the second track 'Peanut Butter Yoni' sounds a bit like Judas Priest with a proto-metal feeling. Yet the album also has elements of progressive rock, horn rock and pomp rock. Like most bands of the era, the idea may have been to take a shot at a few different styles to see if something would stick_ the theory being that a major label might hear the private album by chance and sign said band so they could open for Led Zeppelin or Foghat's next US tour... or something like that. What separates Oz Knozz from other bands is a strong compositional component; they have plenty of original ideas and muster superb instrumentation. The guitar work ranges from hard and powerful to melodic and bluesy, and is supported by some great keyboard, including awe-inspiring organ and synth waves. The three-part 15-minute 'Doodley Squat' suite features heavy dual keyboard parts, crunchy guitars and expressive vocals; the result is a terrific hard prog track with lot of energy. Strange to say about a hard rock album, for many the standout track is the groovy and infectious horn rocker 'Love Poem,' which sounds like it easily could have been from 1969. High energy and impressive songwriting.
With their third studio album 'Nachtlandlein', their love of folk songs takes Bube Dame Konig deep into the treasure trove of traditional lullabies, treating their favourite tunes to original, new arrangements. Besides tender new versions of old songs, the album also holds several unexpected surprises, like the use of hurdy-gurdy, acoustic and electric guitars, airy grooves, and a song in a dreamy Celtic folklore style.
GARAGE/BEAT/SURF/ROCK'N'ROLL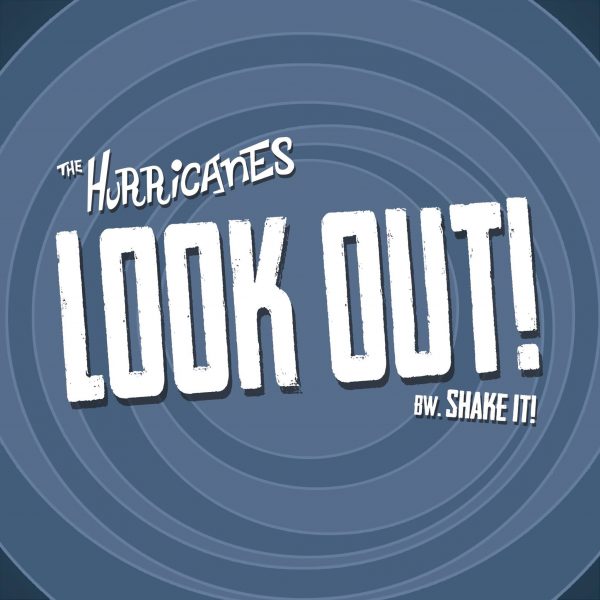 The Hurricanes are a loud mod garage band bringing the sound of 1966 to now! Fusing power pop, '60s garage, mod revival and boss British beat, these four gents have been around the musical block, deciding to get it together to be the kind of band they'd like to go and see themselves. Think The Who, The Creation and The Prisoners.
2019 45 from LA garage sensations The Night Times, recorded exclusively for State Records while the band had a little down time on their UK tour. Here are 2 sides that totally ROCK, just like you want them to! This is a limited edition of 500 copies on 7" vinyl, housed in a beautiful front-laminated flip-back sleeve for added authenticity!
Second single by this rising Notts band, and as it's 40 years since the great Mod Revival of '79, what better way to pay homage to those golden days than putting out two belting tunes housed in a Secret Affair style sleeve. Subculture are gaining more and more admirers every time they play out - which is a lot - the fruits of their efforts will result in the debut album later in 2019.
Garage punk legends Emptifish deliver another blistering platter. It has been a bit of a long wait for this but totally worth it, as Portsmouth's legendary trash masters serve up an album of killer tracks. Older fans will recognise their inimatable style from the kick off as there are a couple of tracks from way back which have been given a make over and if that's not enough, the original Damned skin basher Rat Scabies joined them for a few tracks too. Old meets new and south coast garage royalty no less as ex-Green Hornet Craig B, brings an additional guitar, making that surf influenced trash sound even more impressive. Plenty of new material for you to get your teeth into and all with the unmistakable 'Fishbeat' stomped all over it. 300 copies on white vinyl.
More freshness from Heavy Soul! in the shape of beat-poet Jason Disley. For lovers of true modernism, what could be cooler than hearing beautiful word-play on top of some amazing instrumentation supplied by Rick Blackman.
A third delicious offering from the Pacific Northwest noise duo LàGoon. 'The Unwelcome' features 9 new crushing tracks. Influenced by garage rock, noise rock, skate punk, and doom, LàGoon create their own brand of sludgy rock with minimal elements. For fans of The Animals, The Cramps, Franck Racket, Nirvana, '90s grunge, Subpop, Beat Happening, SST.
POP/ROCK/WAVE/NOISE
English teen singer Lynn Ripley a.k.a. Twinkle became something of a cult heroine due to her well known mid-'60s single 'Terry', a twisted slice of teen drama pop that will make any Shangri-Las fan drool. Though banned by the BBC(!), 'Terry' was followed by five more utterly enjoyable singles and an EP (during 1964-'66), and all those recordings are now available on a delightful compilation-LP! This edition is limited to 500 copies.
PUNK/HARDCORE
Two slabs of unreleased raucous, angry, frustrated, tense examples of punk music from '83. 'Boredom' sums up what it was like living for many of the UK's youth at the time in this country, whilst the flip 'Bullshit Detector' is another example of the fear that gripped many people with the threat of nuclear weapons. 250 copies only in '77 style DIY sleeves. Superbly masterd by Dan Husayn who has worked miracles on all the Love Child releases.
The Italian future brings us Flying Disk, the true sound of new noise. The theme of the modern apocalypse has been written. Get ready to venture beyond the stratosphere with this forward thinking album. A literal sonic punch in the jaw for the unknowing. Packaged in a deluxe jewel case with 6 panel artwork from the band. Limited edition of 300. Brought to you by Forbidden Place Records. For fans of Jawbox, Fugazi, Rival Schools, Quicksand, Cani Sciorri, Dischord Records.
INDUSTRIAL/EXPERIMENTAL/NOISE/NEOFOLK/GOTHIC
Edition of 250 copies and pressed to 180 gram marble vinyl, one-time pressing, housed in pro-printed inner sleeve and jacket, itself contained in a silkscreened pvc sleeve. Milan based Die Schachtel presents 'In Girum Imus Nocte Et Consumimur Igni' (We turn round in the night and, behold, we are consumed by Fire) - a work for solo guitar by the Italian composer Stefano Pilia, the second release to appear on a new series from the imprint - Decay Music, highlighting inspired contemporary experimental efforts in the ambient, ethereal, and emotively abstract.
Centered around Philip K. Dick's writings, Telectu's debut album 'CTU' released in 1982 in Portugal through Valentim De Carvalho, is still very much under the radar, probably for being so far ahead of its time. Considered by some to be at the vanguard of art-rock in Portugal, 'CTU' is much more than this. It's the pinnacle of a new epiphany of sound that came together naturally when Jorge Lima Barreto (Anar Band) and Vítor Rua (GNR) met and decided to direct their creative minds towards an outspoken experimental project riveted in layers of sound mirroring an era of renewal, a true "nouvelle vague" that did for music something akin to what Fassbinder and Godard did for Cinema. 'CTU' lives and vibrates in a hermetic world of it's own, where colours, sound and language slowly dissipate. Limited vinyl reissued fully licensed by Valentim De Carvalho.
Two Daughters (Anthony Burke and a mysterious Paul) were recording in Brixton around 1980-1982 and were closely connected to the Industrial Records and Throbbing Gristle gang. They recorded a debut tape called 'Ladder Of Souls' released on their own 'Methane Music' in 1980. Their one and only LP 'Kiss The Cloth/Gloria' was released in 1981 on Anthony & Paul Records, a sub-division of United Dairies Records, the label run by Stephen Stapleton of Nurse with Wound. The LP then also got reissued on United Dairies in 1987 as UDT026. Two Daughters have also appeared on two other releases. A substantially edited version of 'Return Calls - We Are' can be found on the Cherry Red compilation 'Perspectives And Distortion'. The music is a unique percussion-driven style of ambient and experimental in the vein of bands like O Yuki Conjugate and still holds the test of time. Anthony passed away in 2004.
Edition of 250 copies and pressed to 180 gram marble vinyl, one-time pressing, housed in pro-printed inner sleeve and jacket, itself contained in a silkscreened pvc sleeve. Almost all great music is bridge - spanning geography and time, defying easy definition. It is the product of collaboration and mutual respect - individual voice, fused within a collective force. These are the roots for the trio Vértice, an unlikely formation by experimental luminaries, Maurizio Bianchi, Saverio Evangelista, and Juan Manuel Cidrón - each hailing from their own discrete musical geography in Italy and Spain. Devotion to sound and craft are the bonds which join. Milan based Die Schachtel is proud to present 'Besoch Trauma', this remarkable project's first recorded outing, years in the making and now marking the launch of a new series from the imprint - Decay Music, highlighting inspired contemporary experimental efforts in the ambient, ethereal, and emotively abstract.
'RECORDINGS 1982-87' - :zoviet*france: is an idiosyncratic group of anonymous music makers, gatherers of sound, and fabricators of unknown music. For nearly 40 years, they have explored and reported back from the liminal areas of music and composition, walking the margins where little is easily located and consensus reality melds with the hypnagogic and half-heard. Having wilfully obscured themselves in Newcastle upon Tyne since their inception in 1980, :zoviet*france: has developed a radical relationship with cheap technologies, homemade acoustic instruments, primitive looping and sampling techniques, and basic dub trickery from which the group has crafted a distinctly unique vocabulary of sonic hypnosis. Just as the group's sound has alchemically reconfigured inexpensive technologies, the packaging of their releases has avoided standard formats with aluminium, steel, wood and porcelain among the materials that have been bent and cut to shape instead. Members during the exciting early years represented by these 15 LPs of :zoviet*france: were Ben Ponton, Robin Storey, Peter Jensen, Paolo Di Paolo and Lisa Hale. LP01: Garista (1982) LP02: Same/Norsch (1982/83) LP03: Monomishe (1983) LP04: Monomishe (1983) LP05: Eostre (1984) LP06: Eostre (1984) LP07: Gris (1985) LP08: Popular Soviet Songs And Youth Music (1985) LP09: Popular Soviet Songs And Youth Music (1985) plus 7inch LP10: Popular Soviet Songs And Youth Music (1985) LP11: Misfits, Loony Tunes And Squalid Criminals (1986) LP12: Gesture Signal Threat (1986) LP13: Loh Land (1987) plus 7inch LP14: Assault And Mirage (1987) LP15: A Flock Of Rotations (1987)
Harmograph is a project by and with Matteo Scaioli. Matteo Scaioli summarized his latest research on sound by building various electromechanical instruments, one of which he called the 'Harmograph', which gives the name to his whole project. Harmograph is basically a gong remodeled with a unique sound. Scaioli blends the sound of the Harmograph with other self-made instruments including Melodon's Voice, Phonograph Tape, Dhin "Tan" Pathè and finally his favorite synth: the Prophet 5. Matteo Scaioli - being a percussionist in the end - built the Dhin "Tan" Pathé, a percussive instrument inspired by the Indian Mridangam, conceived and built starting from a 78rpm Pathè bakelite disc of the early 1900s, where Scaioli assembles records in bakelite prepared by him creating rhythms and unpredictable sounds. The artisan dimension of the project is a further step in the continuous personal invention of sound machines and in the search of obsolete instruments, combined with contemporary electronic feel.
...FÜR 2 VIOLINEN, VIOLA UND VIOLONCELLO' - Hermann Nitsch's String Quartet No. 2 in six movements for 2 violins, viola, and violoncello, was performed by the Viennese Koehne Quartet. Recorded during the exhibition 'NITSCH. Spaces Of Color' at the Albertina Museum, Vienna on the 29th May 2019.
METAL/STONER/HARDROCK
Another incredible group from Argentina, the new doom capitol of the underground metal world. Limited to 300 copies. Doom rockers rejoice! This is the album you have been waiting for your whole life.
South American sludge lords Monje are out to crush your skull with their debut album on Forbidden Place Records. This self titled master piece comes in a 6 panel jewell case with stunning artwork. Limited to 300 copies. For fans of Mephistofeles, Corrosion Of Conformity, Electric Wizard, Black Sabbath, etc.
A distant planet, a weary traveler, and a space craft broken beyond repair. A beacon of light shimmers in the distance and the desolate planet glows under the surface. All alone in this lunar landscape and cosmic mountain range. A final call is sent into the void of space. The signal is lost... From Denver, CO come heavy riffers Stone Disciple. This dynamic 4 piece have delivered in a major way on their first release with Forbidden Place Records. Limited edition of 200 copies in a 6 panel jewel case with artwork by the band.
BLUES/COUNTRY/OLDIES
Hollow Hearts, the hard working Americana band from northern Norway, have spent three years writing about Annabelle and Peter, and this is the closing chapter. Their story is about a life-long relationship that shows how complicated love can be.
With banjolele in hand, the talent that is Thomas Benjamin Wild Esq. has been wooing people with his blend of comedic genius for a while now and steadily amassing an army of followers all around the world. This is his debut collection of bally good tunes that will do what music is supposed to do - entertain you! His performances charm audiences with a unique mix of original material, singalong classics and a sharp vintage wardrobe.
SOUL/FUNK/LATIN/R&B/GOSPEL
Back on vinyl is the wonderful 1972 full-length by Uruguayan vocalist Diane Denoir, blending candombe beat in the vein of El Kinto and Totem with bits of bossa nova and more. This reissue, pressed in a limitd run of 500 copies, comes with remastered sound, renewed gimmick artwork and a printed inner sleeve.
ELECTRONIC MUSIC/AMBIENT/D'N'B/TRIPHOP
'THE FUTURE & RADIOPHONIC DVATIONS' - This 5LP-box release pre dates 'Horology 1' and is a companion collection of experimental recordings made in 1977 and 1978 by Adi Newton prior to, and during, the formative period of development of Clock DVA. The box includes the original Future recordings made by the trio of Adi Newton, Martyn Ware and Ian Craig Marsh before The Future developed into The Human League and Clock DVA. The remaining four LP's are entitled 'Radiophonic Dvations' (pts 1, 2, 3 and 4) a title devised to encompass and convey the nature of the recordings which are Experimental Analog Tape and Synthesis works inspired by early acousmatics, radiophonics, pyschotronics and avant garde electronics. The box comes with a 40-page booklet chock full of relevant information.
First released in 1999 on CD only, here is, to celebrate its 20th anniversary, the first vinyl release for this legendary record.
SOUNDTRACKS/LOUNGE/CULT ETC
The first ever physical release of the soundtrack to Lars Von Trier's controversial film 'Antichrist'. Ten years after the film's initial release, the extreme, provocative performances from Willem Dafoe and Charlotte Gainsbourg in 'Antichrist' still have the power to shock, repulse and divide. The soundtrack, with music from Kristian Eidnes Andersen and Handel, is pressed onto heavyweight 180 gram vinyl with an etched B-side. Housed in a heavy 350g card full colour sleeve featuring the original theatrical release artwork.
The first-ever ethnographic acid western! In a genre-defying film, 'Zerzura' follows a young man from a small village in Niger who leaves home in search of an enchanted oasis. His journey leads him into a surreal vision of the Sahara, crossing paths with djinn, bandits, gold seekers, and migrants. Zerzura is a modern folktale transposed onto an acid western, equal parts Jodorowsky and Jean Rouch. Written and developed with a local Tuareg cast, 'Zerzura' mixes ethnofiction with the genre picture, exploring themes of migration and exoticism through a collaborative approach. Comes with 12-page booklet. In Tamashek with English and French subtitles; 84 minutes, all region DVD, NTSC format. Limited edition of 1000 copies.
Blog
Previous editions:
31/07/2020 09:09 SPOTLIGHT 31
27/07/2020 18:20 SPOTLIGHT 27 + 28 + 29 + 30 part 2/2
27/07/2020 17:56 SPOTLIGHT 27 + 28 + 29 + 30 part 1/2
30/06/2020 10:32 SPOTLIGHT 26
22/06/2020 10:20 SPOTLIGHT 25
15/06/2020 11:08 SPOTLIGHT 24
08/06/2020 10:15 SPOTLIGHT 23
31/05/2020 16:26 SPOTLIGHT 22
25/05/2020 15:32 SPOTLIGHT 21
19/05/2020 07:59 SPOTLIGHT 20
11/05/2020 18:28 SPOTLIGHT 19
05/05/2020 08:01 SPOTLIGHT 18
27/04/2020 10:30 SPOTLIGHT 17
20/04/2020 13:59 SPOTLIGHT 16
14/04/2020 07:50 SPOTLIGHT 15
06/04/2020 17:10 SPOTLIGHT 14
30/03/2020 18:16 SPOTLIGHT 13
22/03/2020 16:54 SPOTLIGHT 12
12/03/2020 14:26 SPOTLIGHT 11
09/03/2020 10:53 SPOTLIGHT 10