SPOTLIGHT 4
28/01/2019 10:06
Welcome to the Spot Light. Check out the latest psychedelic, cosmic, prog, freakbeat, folk, kraut, experimental, jazz, drone, mystical, and avant-garde sounds! https://www.shinybeast.nl/blog

New releases by Longhair Records, Sixteentimes Music, Sealed Records, Sub Rosa, Sound Miracle and lot's of reggae on Roots Vibration. Check also back-in-stock and latest releases available on Shiny Beast!


PSYCHEDELIC/PROGRESSIVE/FOLK
Nero Kane is the nickname of Marco Mezzadri, a songwriter and musician already known in the Italian underground scene. After the release of his rock-wave album 'Lust Soul' under the name NERO in 2016, he is focusing on a new intimate, minimal and decadent path. Folk-rock-blues voice and guitar combine European roots with American desert sounds in a project full of dark and emotional visions. 'Love In A Dying World' is the name of Nero Kane's debut album, recorded and produced at Valley Recording Company in Los Angeles by Joe Cardamone (The Icarus Line/ Holy War). The album, released under American Primitive, an art collective founded by Cardamone, features ten tracks. A soul moved by melancholy dreams and need of deep emotions in a solitary world: love, death, decadence and loneliness are the themes expressed in 'Love In A Dying World' with a poetic and spiritual vein. Two songs of the album ('Now The Day Is Over' and 'Because I Knew Not When My Life Was Good'), were inspired by a hymnbook from the American Presbyterian Church bought from an old antique dealer near Joshua Tree during Nero Kane's journey through California. Limited to 300 copies.
Reissued on vinyl, here's the fourth and final full-length from the Danish progressive jazzrockers, originally dating back to 1976. The album is full of fantastic, non-trivial melodies and great solos, performed by musicians (ex-members of Burnin' Red Ivanhoe, Coronarias Dans and Hurdy Gurdy) who had mastered their instruments so well they had no need to show off. This edition includes a bonus track, liner notes and rare pix.
Reissued on vinyl is the third full-length by Danish band Secret Oyster, including ex-members of Burnin' Red Ivanhoe, Coronarias Dans and Hurdy. Originally dating back to 1975, this remarkable album was made on request for a ballet of the same title, starring one of the greatest Danish female ballet dancers of the era, Vivi Flindt. (It's also Vivi who posed naked for the cover of the album.) Musically we're talking progressive rock and jazz fusion of the highest level. Weather Report probably is the most obvious reference, although Secret Oyster had an amazing guitarist who gave the group a much more rocking sound. This edition comes with two bonus tracks and an insert featuring liner notes and rare photos.
Second album by this Spanish '70s style psych/hard rock band influenced by Hendrix, Cream, H.P. LOvecraft and the likes. Slap Guru was created with the assumption that music can become a liberating expedient. Just as the ancient Zen masters, who sometimes resorted with harsh methods to reach the Satori (even slapping the apprentice), Slap Guru tries to shake the bowels of the listener through the rock language.
The Wooden House Session is the third album by Sons of Morpheus, high caliber raucous blues rock, heavy as it is catchy. Equal parts poppy blues meets shit kickin', space trippin' grungy grooves.
In 2005, Itta (voice, Indian harmonium, toys) and Marqido (analogue synths) began a new, shifting musical life as 10 in Seoul, South Korea. To mark the massive March '11 earthquake in Japan, 10 took a step in their evolution by becoming (((10))). The ground moved in a much different way when son RAAI arrived in 2012. Not missing a beat, or a good sign, (((10))) expanded to become Tengger. Itta and Marqido, now with RAAI, incorporated all the adventures their self-described traveller family might have into their immediate lives and the sounds being being generated as Tengger. Touring the US, Asia and Europe, Tengger assimilate audience reaction and the myriad experiences of exploring and turn those elements into pillars of their sound, raw material for both foundation and take-off. It's no surprise, and absolutely fitting, that 'Segye' (Korean for world) encompasses the mind, time and space. 'Segye' began taking shape in 2016 at Slow Slow Quick Quick (Seoul) during the demonstrations against President Geun-hye Park. Then, during the candle demonstration, artist Beck Jeajung made his voice heard and seen. Tengger, picking up on the synchronization, asked Jeajung to bring his art to the album taking shape. This environment, this bigger picture of family and community -this 'Segye'- feeds the album as much as Tengger's own inner circle and outbound adventures. Their lush electro/drone psych may be the product of knobs, wires and electricity, but it's made from the experiences that only the real world can provide, both immediate and distant. These inner and outer dynamics, often at odds with each other, fuse to give the pulsing of 'Segye' a subtle luxuriance that celebrates the humanity inherent in their music. Itta's voice melds and dances with the sonic patterns and processes, to continually layer, move and build on each other to not only lift the listener upwards, but to take them to places to take off again; destination to be determined. Originally released on cassette via Guruguru Brain and now as a newly mastered edition on red vinyl, limited to 300 copies.
First album by folk/rock band from Switzerland.
The undisputed champions of the middle eastern psych rock return with 'Transporter', their third album to date. After two years trotting the globe performing, Ouzo Bazooka returned to the studio a tight knot radiating with ideas and inspiration to create what just might be their most cohesive work to date. 'Transporter' manages to effortlessly be a lot of things, that in a similar universe, contradict each other: it is psychedelic, but accessible. It is adventurous and creatively free spirited, but also filled with anthems waiting to be discovered, the perfect soundtrack for your desert soul searching adventure.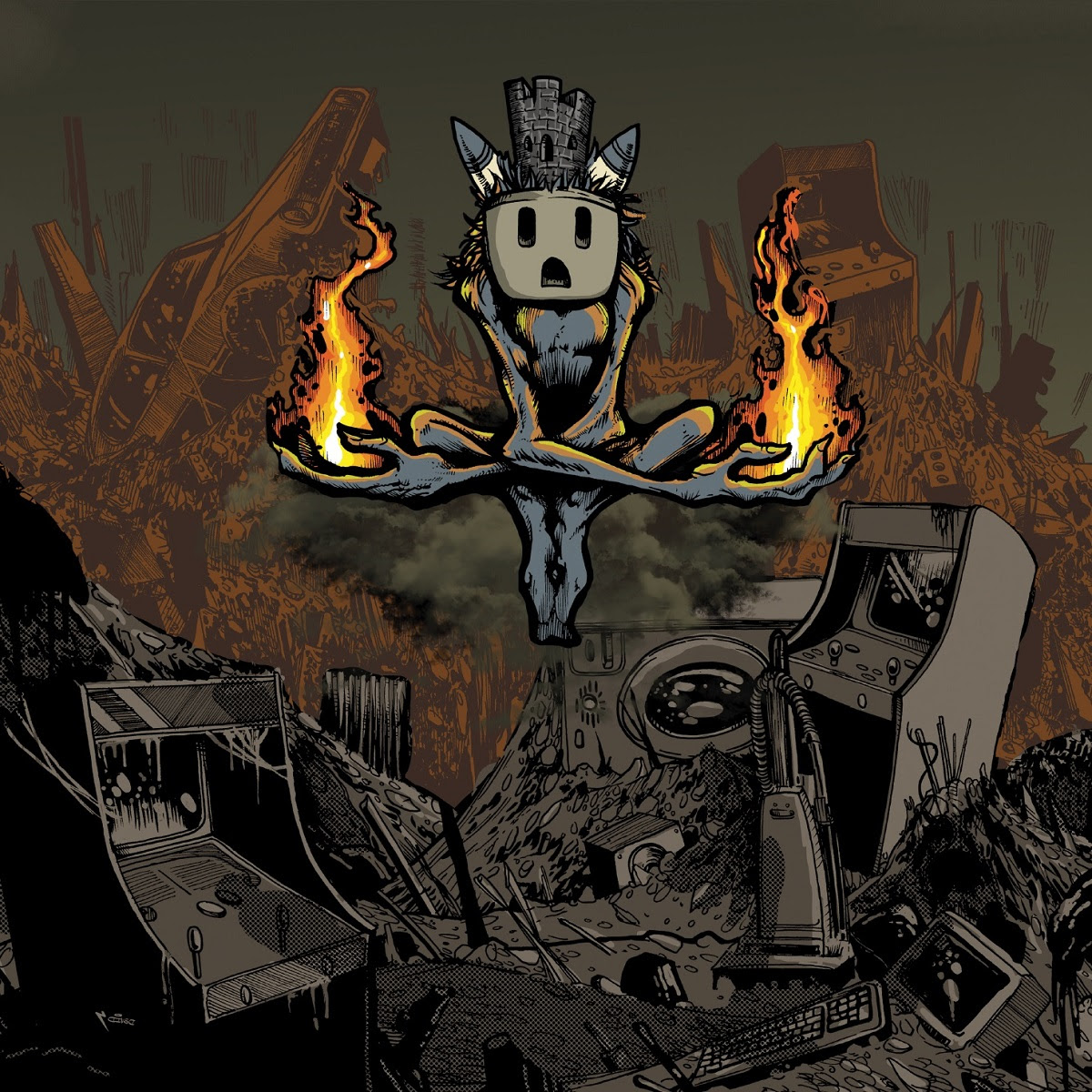 At any given time, four intrepid psychonautical musicians are called and culled together to channel the sonic power of the Palace, and only these four can truly journey to the place known as Thunderland, and tell tales of what they have simultaneously experienced in the Pure Lands beyond the realms of conceptualized space and time... For fans of Mastodon, Pink Floyd and Baroness.
GARAGE/BEAT/SURF/ROCK'N'ROLL
The Pale Lips is an all-girl four piece rock'n'roll band from Montreal, Canada. The four brats Jamie, Jackie, Lynn, Ilona got the coolest flavours in chewing gum juke box rock and blow big bubbles turning to daggers. Nikki Corvette style '60s girl group harmonies, rolling '50s rhythm section, edgy '70s Joan Jett song writing with a Tina & Total Babes fun ride. Take the Donnas microwave popcorn and late '70s VKTMS punk kicks dismiss the flower and indie rock purveyors. Trenched with wonderful back-ups 'After Dark' is a power-pop, hook-driven album with that certain gleam of silver light. After their first album 'Wanna Be Bad' and a couple of singles, this is the second effort.
PUNK/HARDCORE
21 track singles round up from one of the UK's first wave of hardcore punk bands, the Mau Maus. They were formed in Sheffield and in the early '80s they released a string of hard hitting EPs on the Pax and Rebellion labels. Including 'Society's Rejects', 'No Concern', 'Facts Of War' and 'Tear Down The Walls', all of which hit the UK Indie Top 10. This set includes all the tracks from those four singles plus 'Give Us A Future' from the 'Punk Dead - Nah Mate, The Smell Is Jus Summink In Yer Underpants Innit' compilation on Pax. Each track is a prime example of fury delivered with intensity and passion. The LP comes with a A4 booklet of lyrics, reviews and archive.
The second release on Sealed Records is a 14 track round up of the five singles by Zounds. The debut single from 1980 'Can't Cheat Karma' was released on Crass Records and 39 years later still stands as one of the finest singles both politically and musically. For the next three singles Zounds released them on Rough Trade Records, along with their debut album 'The Curse Of Zounds'. 1981's 'Demystification' was a tense and stark masterpiece. It was followed by the haunting Mikey Dread-produced 'Dancing' and then the more straight up pop of 'More Trouble Coming Everyday'. The final single of Zounds Mark 1 was 'La Vache Qui Rit' released on Belgium label Not So Brave in 1983 and was originally supposed to be a split single with The Mob but ended up with two scratchy studio tracks and two rough and raw live tracks recorded in Holland in 1982. Every home should have these essential Zounds recordings.
INDUSTRIAL/EXPERIMENTAL/NOISE/NEOFOLK/GOTHIC
This album contains seven compositions, created by the Opening Performance Orchestra, Blixa Bargeld, Luciano Chessa and Fred Möpert. All the pieces relate to the theme of Futurism and employ intonarumori, instruments invented and used more than a century ago by the Italian Futurists in their noise compositions. SIDE 1: 1. Opening Performance Orchestra + Blixa Bargeld: The Noise Of Art (2017) 2. Opening Performance Orchestra: Trio N°3 (2017) SIDE 2: 1. Luciano Chessa: Prilis Hluena Samota (2017) 2. Opening Performance Orchestra: Trio N°2 (2017) SIDE 3: 1. Fred Möpert: Neue Horizonte (2017) 2. Blixa Bargeld: The Mantovani Machine, Pt. 3 (2013) SIDE 4: 1. Opening Performance Orchestra: Futurist Soirée (2016)
'PRECOCIOUS NOISE AND EARLY ELECTRONICA, PT. 2' - This compilation is for those who are not familiar with the fascinating world of primal electronica, noise, sound design, industrial, avant-garde, tape-music etc... you name it! Featuring a track dating back to 1921 and material recorded up to the 1960s, this is a selection of groundbreaking electronic music. The tracklist includes artists from countries such as Egypt, the USA, Hungary, Denmark, Germany, Italy, Sweden, France and even the USSR! The LP on clear vinyl includes a free CD-copy. SIDE 1: 1. Johanna M. Beyer - Music Of The Spheres (1938) 2. Bengt Hambraeus - Doppelrohr II (1956) 3. Franco Evangelisti - Incontri Di Fasce Sonore (1956) 4. Remi Gassmanny - Curtain Music (1961) 5. Vladimir Ussachevsky - Reverberation (1957) 6. Halim El-Dabh - Wire Recorded Piece (1944) 7. Pierre Henry - Après La Mort (1962) SIDE 2: 1. Else Marie Pade - Lyd & Lys (1960) 2. Herbert Eimert - Klang Studie II (1952) 3. The Blue Men - Glob Waterfall (1960) 4. György Ligeti - Piece Electronique #3 (1957) 5. Giselher Klebe - Interferenzen (1956) 6. Velimir Khlebnikov - Radio Busushchego (1921)
Pascal Dusapin was born 29 May 1955 in Nancy, France. His music is marked by its microtonality, tension, and energy. A pupil of Iannis Xenakis and an admirer of Varèse, Dusapin studied at the University of Paris I and Paris VIII during the 1970s. His music is full of "romantic constraint", and he rejects the use of electronics, percussion other than timpani, and, up until the late 1990s, piano. He wrote 8 operas and important pieces for ensemble and solo instrument. Here is for the first time his complete work for viola. performed by Vincent Royer, alto and Brigitte Krömmelbein, violin. A unique artist, Pascal Dusapin continues his musical journey, formal and yet never dogmatic, offering his fiercely emotional music through a great range of diverse forms.
As Vivian Slaughter morphs into Viviankrist, the music also changes from the intense cold desperation and raw nerve brutality of Gallhammer into a kaleidoscope of electronic sounds... still brutal and shattering, and still depicting soundscapes that close in on the darker side of the soul. A way to escape the dull pressure of a reality that sometimes seems to slip away into psych wards and chemicals. A reaction towards indifference. A shard of mentality released in wave after wave of fully analogue sounds, sometimes disturbed by digital intrusions. The twilight and dawn of things to come from a renewed Viviankrist.
METAL/STONER/HARDROCK
Excavated from the archives of a long-time roadie and brought back from the brink of disintegration comes this collection of live recordings made over several nights in Topeka, Kansas circa 1974. The celebrated Iowa hard rock trio is captured here in raw form doing what they did best, stretching out into extended jam sessions featuring heavy guitar action from Billylee Janey, booming fuzz bass from Steve Bock, and Denis Bunce locked in the zone behind his drum kit. 'Midnight Horsemen,' originally released as 3-minute single in 1972, is featured here as a 22-minute jam and is a prime example of vintage Truth and Janey. Also included are several previously unreleased songs which have not been heard in over 40 years, as well as early versions of 'Down The Road' and 'My Mind,' from their 1976 underground hard rock classic debut album, 'No Rest For The Wicked.' Digipak.
BLUES/COUNTRY/OLDIES
With 'Baia', their third album in five years, The Limboos will transfer you to a sweet and viscous spiritual ceremony that crosses paths between Chicago from Santiago de Cuba. This album produced by Mike Mariconda and with all songs written by themselves you get eleven new lessons in class and sweaty elegance.
JAZZ/AVANTGARDE
Never before released 1974 recording of the Californian soul jazz outfit High Risk! A unique musical experience that is oozing the spiritual freedom of the early seventies in a creative mixture of jazz, folk and blues - all fuelled with political lyrics, from an all-female band consisting of Virginia Rubino (of BeBe K'Roche fame) on keys, Cyndy "Cynth" Mason Fitzpatrick (of Flutemedicine fame) on saxes and flute, Bobi Jackson on bass and Sandy Ajida on percussion. The album features 6 original tracks including the full mix of 'Common Woman' with all 6 poems by critically acclaimed poet and author Judy Grahn, who also contributed to the liner-notes. Limited pressing of 500 copies, comes sealed in American style paste-on cover and with lyrics and poster inside.
REGGAE/DUB/SKA/ROCKSTEADY
Groovy reggae track from Eric Donaldson. Recorded and produced produced by Lee "Scratch" Perry in 1977. Edition of 500 copies.
In 1978 Creator returned to the Black Ark to re-record his in 1968 in Randys studio recorded song 'Such Is Life'. One of the highlights of the '70s Black Ark era now finally available again on 12". Edition of 500 copies.
Wicked roots reggae double sider by Ras Midas with 'Good Old Days' featuring I-Roy on the A-side and 'Melchizedek' on the B-side. Edition of 500 copies.
On volume 3, you'll find artists you'll already know from previous volumes, such as Las Cuatro Monedas or Conjunto Habana, together with real rarities such as Aristides Paz or The King's Trials... With covers of Jamaican classics and original tracks, from vintage ska to reggae with skinhead roots... but always with the same essence. And not to loose a good habit the album closes with a ghost track, from Colombia in this case and merging a Jamaican music classic with other classic rhythms. SIDE 1: 1. Malvicino - Doble Barril (Argentina) 2. Conjunto Habana - Mi Nena Ska (Mexico) 3. El Klan - Herido (Mexico) 4. Leo Dan - No Existe Una Ley (Argentina) 5. Las Cuatro Monedas - Ritmo Del Alma (Venezuela) 6. Aristides Paz - Lucky Lucky (Guatemala) 7. Los Teen Agers - Verguenza, Escandalo En La Familia (Colombia) SIDE 2: 1. The King's Trials - Regall Express (Panamá) 2. The Summits - Ask Yourself (Curacao) 3. Los Pameras - Scaba Badi Bidú (Perú) 4. Los Chijuas - Oyeme (Mexico) 5. Marimba Orquesta La Perla Del Soconusco - Jamaica Ska (Mexico) 6. Palito Ortega - Cuando Tu Me Quieras (Argentina) 7. Las Cuatro Monedas - Mil Veces No (Venezuela)
On volume 4 you'll get to learn about unknown bands (from out of the Jamaican scene like Los Creyentes de BC or studio ones like The Stars), get almost impossible to find tunes ('Rosario' or 'Los Costeños') or listen to covers as good as the original (hurray for Los Robbin's!)... or with sounds that enrich the cover (those amazing Calypso touches of René Santos or the cumbia flavour of Carmen Rivero). These precious stones are all different and all highly valuable -from Jamaican beat to early reggae or calypso- with covers that range not only from Jamaican scene classics to jazz and soul. And once again there's a ghost track at the end, from Panamá this time and giving an Antillean flavor to another Jamaican classic. SIDE 1: 1. Rosario - Doble Barril (México) 2. The Stars - Susana, Cuídate Del Diablo (Argentina) 3. Los Robbin's - El Enterrador (Honduras) 4. Hugo Blanco, Su Arpa Viajera Y Su Conjunto - Malinda 5. Julián Ber't - Sabor A Miel (México) 6. Carmen Rivero Y Su Conjunto - Jamaica Ska (México) 7. René Santos Y Sus Estrellas - Mi Mujer Me Domina (Panamá) SIDE 2: 1. Roberto Delgado & His Orchestra - Liquidator 2. Ely Combo - No, No, Nola (México) 3. Las Cuatro Monedas - Como Me Gustas (Venezuela) 4. Los Costeños - Zoila (Honduras) 5. Los Yorsy's - No Insistas Más (México) 6. Los Creyentes De B.C. - Un Poco De Amor, Un Poco De Paz (México) 7. As Exorcistas - O Mundo E Um Conflito (Brasil)
SOUL/FUNK/LATIN/R&B/GOSPEL
'RHYTHMS, LEGENDS & STYLES (1899-1963)' - The great majority of Brazilian music compiled, notoriously abroad, always has been focused on the same stereotypes, and musical genres as trad-samba and recycled bossa nova. Until now! Sound Miracle Recordings, proudly presents the first volume of a collection called 'Brazil Primitivo - Rhythms, Legends & Styles'. This 16-track LP on clear vinyl serves not only to repair this huge gap but as well to celebrate certain rhythms, creators and sui generis styles that had been forgotten, and overlooked, at least for six decades. Have you heard about Lundu, Chorinho, Capoeira, Samba De Roda, Xaxado or Toada? Likely not, and this is a spectacular chance to dive into the likes of neglected geniuses as Pixinguinha, Ataulfo Alves, Monsueto and many others. Ancient rhythms and colorful sounds as you never heard before! Also, this 16-track album (with two extra tracks on its bonus CD) includes, allegedly, the first Brazilian musical recording made in 1899, and celebrities such as Carmen Miranda (yes, the pin-up actress) and Raul Seixas (yes, the all time greatest Brazilian rock icon) on his very first musical adventure recorded under the alias Raulzito E Os Panteras. SIDE 1: 1. Vanja Orico E Demônios Da Garoa - Mulher Rendeira (1953) 2. Luiz Gonzaga - Asa Branca (1947) 3. Jacob Do Bandolim - Noites Cariocas (1943) 4. Vicente Celestine - O Ébrio (1946) 5. Xisto Bahia - Isso É Bom (1902) 6. Moacir Franco - Me Dá Um Dinheiro Aí (1959) 7. Mestre Bimba - Catarina (1940) 8. Monsueto - Eu Quero Essa Mulher Assim Mesmo (1962) SIDE 2: 1. Pixinguinha & Orlando Silva - Carinhoso (1936) 2. Chiquinha Gonzaga - O Abre Alas (1899) 3. Lúcio Alves - Laura (1959) 4. Jackson Do Pandeiro - Moxotó (1958) 5. Mestre Canjiquinha - Improviso No Filme Barra Vento (1962) 6. Ataulfo Alves - Na Cadência Do Samba (1962) 7. Carmen Miranda - Tico Tico No Fubá (1934) 8. Raulzito E Os Panteras - Mulher Rendeira (1963) CD ONLY: 1. Bahiano - Pé De Anjo (1923) 2. Almirante & Grupo Velha Guarda - Trem Blindado (1932)
SOUNDTRACKS/LOUNGE/CULT ETC
1981's 'Explosive' charts cinematic yet darker territories than its companion 'Accade A...' This killer Italian library album by Luciano 'Arawak' Simoncini was only ever released on the elusive Orrery Records label, and is now very hard to find. Still very much under the radar, 'Explosive' reveals itself as a swift tangled web of beats for the discerning DJ. Tracks includes the driving cosmic funk 'Hardware' with sharp hip-hop breaks and spaced-out abstract synth keys. 'Kangoroo Court' is an even better alternative version dubbed with underwater and weird'ish train effects. More electric piano madness on the insane 'Oil Spot'. Also includes the two superb Fender Rhodes and environmental FX tracks 'Shotgun' (First compiled on 'Vroommm - Funk Cinematique' and sampled by Tomppabeats) and the intriguing track 'Warhorse'. Classic Arawak moods not to be missed! Fully remastered and licensed reissue, limited to just 350 copies on black wax.
'Exotic-O-Rama' is certainly the most absurd and out-of-the-ordinary, the most fun and convivial series of '50s and '60s tunes yet compiled by dear ole El Vidocq. And Volume 2 presents a selection even more audacious than its smashing predecessor. Embark upon an eclectic safari through a lush pacotille of melodies, from groovy R'n'B mangroves (The Ramrocks) home to nestling toucans (The Century Five), to head-shrinking rockers (Bob Vaught) and doo-wopping crocs (The El Capris), not to mention a few veritable birds of paradise (Rosco Gordon)... Wildlife worthy of an Ed Wood flick! But while the ambiance often turns outrageous, keep in mind that these exotic ditties were concocted by the same trailblazing performers who would inspire Lux Interior of The Cramps and Fred Schneider of the B-52s... While most of the groups comprise colorfully daubed Yanks, there's also a stray Italian (Franco Ei "G5") and a passel of playful Mexicans (The Stardusters). The album art, signed Jampur Fraize, is one of the most sumptuous to date, which is saying something. Yet another tangy treat for the eyes and ears, brought to you by El Vidocq and his vine-swinging comrades... SIDE 1: 1. The Crew - Jaguar Hunt 2. Kai Ray - I Want Some Of That 3. The Century Five - La Moomba Kasa Boo Boo Cha Cha Cha 4. The Ramrocks - Pasha 5. Paul Vance - Cleopatra 6. Franco Ei "G.5" - Kilindini Docks 7. The Stardusters - Rockin' The Boat 8. The Mogambo's - Bi-Aza-Ku-Sasa SIDE 2: 1. Baby Sticks & The Kingtones - Pigmy 2. Jack Medell - Umbe 3. Bill Walters & Ape Friend Dee Felice - Orang-Ou-Tango 4. Bill James & The Hex-o-Tones - Voo-Doo Queen & The Medicine Man 5. The Watusi Warriors - Wa-Chi-Bam-Ba 6. The El Capris - Ko Ko Wop 7. Bob Vaught & The Renegaids - Bo' Gater 8. Rosco Gordon - Torro
AFRO-BEAT/FUNK & PSYCH/DESERT BLUES/ETHIOPIQUES
Afro7 dug deep in the CBS Kenya vaults and found four fantastic soulful reggae tracks of early '80s origin! First song is the bouncy 'Fire' by the Kenyan Black Savage Band. Track two on the first side is Nigerian Sheila and Desmond Majek's laidback soulful 'Got The Feelin'' and flip it for two fantastic tracks by the Kenya coastal outfit Ovid, check out the synth drum machine laden 'Karibuni' and the party number 'Operator'. Mastered by Frank The Carvery. The EP comes in super deluxe cardboard jacket made in Thailand with silk screened coastal-inspired artwork made by California resident Steve Roden. Limited to 500 copies.
Nigerian composer Hama presents a groundbreaking album of traditional electronic desert folk songs, hovering somewhere between early '90s techno and synthwave. Nomadic herding ballads, ancient caravan songs, and ceremonial wedding chants are all re-imagined into pieces seemingly lifted from a Saharan 1980s sci-fi soundtrack or score to a Tuareg video game. With a deep love and respect, Hama effortlessly takes back and re-appropriates fourth-world ethnoambient music.
Blog
Previous editions:
10/09/2019 08:05 SPOTLIGHT 36
30/08/2019 10:49 SPOTLIGHT 35
22/08/2019 16:51 SPOTLIGHT 34
16/08/2019 13:40 SPOTLIGHT 33
09/08/2019 12:50 SPOTLIGHT 32
26/07/2019 13:50 SPOTLIGHT 30
19/07/2019 09:55 SPOTLIGHT 29
15/07/2019 09:44 SPOTLIGHT 28
05/07/2019 16:29 SPOTLIGHT 27
01/07/2019 10:57 SPOTLIGHT 26
24/06/2019 14:15 SPOTLIGHT 25
18/06/2019 08:23 SPOTLIGHT 24
09/06/2019 19:32 SPOTLIGHT 23
04/06/2019 09:28 SPOTLIGHT 22
27/05/2019 10:56 SPOTLIGHT 21
20/05/2019 10:57 SPOTLIGHT 20
14/05/2019 08:35 SPOTLIGHT 19
07/05/2019 12:41 SPOTLIGHT 17 & 18
23/04/2019 08:39 SPOTLIGHT 16
15/04/2019 08:11 SPOTLIGHT 15