SPOTLIGHT 49
10/12/2018 17:39
Welcome to the Spot Light. Check out the latest psychedelic, cosmic, prog, freakbeat, folk, kraut, experimental, jazz, drone, mystical, and avant-garde sounds! https://www.shinybeast.nl/blog
Subscribe to our mailing list: https://www.shinybeast.nl/mailinglist/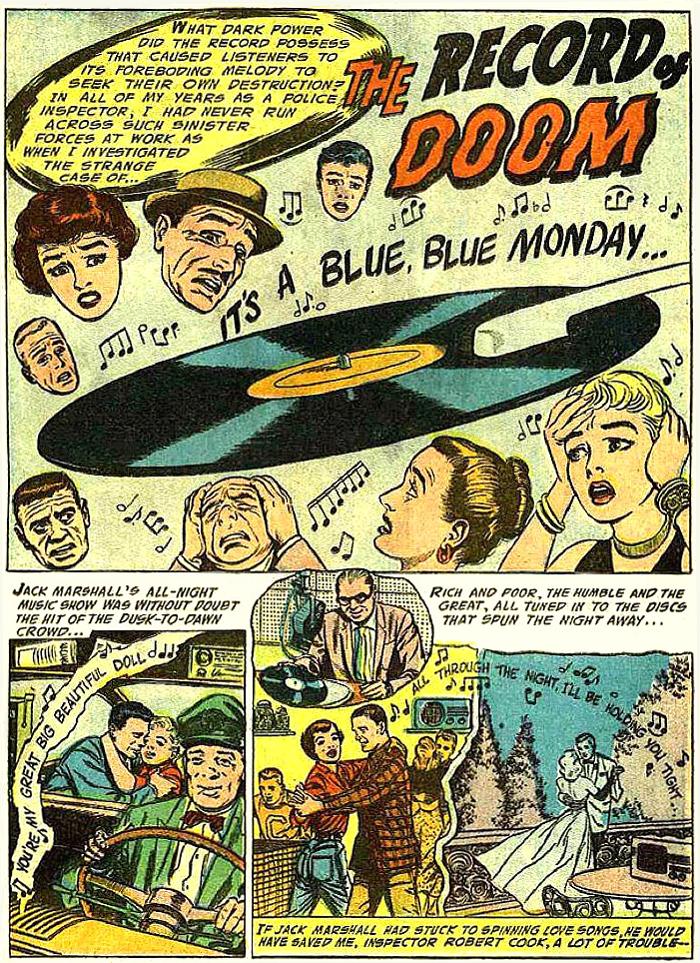 PSYCHEDELIC/PROGRESSIVE/FOLK
B/w 'New York City'. Reissue of extremely rare Belgian fuzz garage single, originally only issued in France in 1967 as promo. Limited to 500 copies.
B/w 'Limousine'. The second hint at how good the album 'Smut' will be. After the success of the first single 'Speak Of The Devil', Paul returns with 'I'll Be Your Murderer', another glimpse into the dark Orwell mind, a tale of one person's determination to scare the shit out their victim! Feedback, huge riffs, lyrics that capture Hammer, Jason, Freddy and Michael Myers in one three and a half minute burst.
Available on vinyl, this compilation collects all the singles of Edinburgh-based '60s beat-mod-r&b heroes The Athenians and adds previously unreleased recordings from surviving acetates. Genre fans will be delighted!
On 'Visions From The Void' the psychedelic space rock trio travels even further to deep space within oneself while taking ample glances at the void. The album features five songs consisting of mantras, chants, psychedelic grooves, space rocking madness and progressive twists. Listener should be prepared to have one's psyche remade while floating on a sonic astral travel through the void. On 'Visions From The Void' pieces of the DSD hivemind are aligned with Dr Space, contributing analog synthesizers for the whole album, as well as Antti "Yskä" Ylijääskö playing saxophone on 'Tyhjyyden Mantra', Joonatan Elokuu Aaltonen devoting synthesizers, mellotron and guest vocals for 'Floating', and TYHJÄ PÄÄ (Void Head) providing analog space sounds and drones for 'From The Void'. This album was recorded and mixed at Tonehaven Studios by Tom Brooke, while the guest artist were recorded in different locations. Limited to 190 copies on black vinyl.
'Demos & Outtakes 98-02' includes 5 tracks that have never seen the light of day before (!!), alongside rare demos as well as cover songs such as the unique live version of Black Flag's 'Nervous Breakdown'! Beside these never published demos to date, the known tracks on this album are different to what Nebula originally released on their previous records such as on 'Charged' or 'To The Center'. Some tracks were written and recorded in these sessions, some never made it on any of these or were used for B-sides and singles, and then we get songs such as 'Whalefinger' which has been the first song Eddie Glass ever wrote and which originally made it on a 7" B-side by Olivelawn, where Eddie has been playing drums for. Black vinyl version.
A newly remastered reissue of Nebula's legendary 'Charged' album, originally released on Sub Pop back in 2001. 'Charged' has been the second full-length album by the stoner rock legends, it's also the last album featuring former Fu Manchu bandmate Mark Abshire on bass and before the original band lineup re-united in 2018. The third album track 'Giant' was featured in 'Tony Hawk's Pro Skater 4'. 'Charged' is still considered as one of Nebula's most important and distinctive records to date. A heavy fuzz rock trip into the desert, a wheel of hot lava, and the sheer power of almighty riffs only an act like Nebula could have ever created. Black vinyl version.
Originally released in 1970, now reissued, this LP by a band from New Jersey had an amazing psychedelic sound that took all the right elements from west-coast bands s.a. The Doors or Jefferson Airplane, Bosstown sound acts à la Ultimate Spinach or Chicago hipsters like H.P. Lovecraft to produce its own brand of psych rock, featuring strong, dramatic vocals, tons of fuzz guitar and swirling organs. This awesome reissue comes with a full SECOND LP featuring previously unissued material, AND an extra bonus 7-inch with the garage killer 'The Farm', which would have been an explosive 45 for the band had it not been withdrawn from release. And to top things off, you also get a poster and a 4-page booklet.
The sessions that produced 'Hallucinations Inside The Oracle' also gave birth to 'Kybalion', as the band searched for ancient knowledge and wisdom in their musical journey. This OSC album is a collaboration with 'Cyber Rabbit', using the great potential of Mixed Reality technologies. The album comes with a special app (download is for free) that allows you to interact with the artwork of the album! Limited to 182 copies on black vinyl.
Debut album by kebab'n'roll desert rockers from Yorkshire. Fuzzy spiraling stoner rock riffs with gravel growling vocals. Limited to 200 copies on purple vinyl.
The third studio album from Somerset based psychedelic rockers Sergeant Thunderhoof. "If you are familiar with their past work you will know to expect plenty of addictive grooviness, raucous riffage and hazy psychedelics all executed with a breath-taking level of musicianship and outstanding display of vocal dynamics and 'Terra Solus' does not disappoint in any of those departments." ~Doom Charts. "Eight killer tracks of heavy psyched out stoner perfection with sprinkles of metal, doom, and space rock throughout." ~Outlaws Of The Sun. Limited to 300 copies on gold vinyl.
For the first time on double vinyl. 'Love And Peace' was a big outdoor festival in Germany (Fehmarn, last live performance of Jimi Hendrix) held in the summer of 1970. As was traditional for such events, an album was also released to document it. Though, actually, the album consisted of mock-live studio recordings from German bands that performed at the event, recorded under better conditions in the studio. All the music is original. Features rare material from Thrice Mice, Tomorrow's Gift, Dr. Roberts Blues Band, Sphinx Tush with later Frumpy guitarist Rainer Baumann and Greenlight. The double vinyl comes with insert including band stories. Highly recommended. SIDE 1: 1. Thrice Mice - Drive Me 2. Greenlight - Junior's Wailing 3. Tomorrow's Gift - Begin Of A New Sound 4. Greenlight - Why Didn't Rosemary SIDE 2: 1. Tomorrow's Gift - At The Earth (Part One) 2. Tomorrow's Gift - Indian Rope Man (Part One) 3. Tomorrow's Gift - At The Earth (Part Two) 4. Tomorrow's Gift - Indian Rope Man (Part Two) 5. Tomorrow's Gift - 20:20 SIDE 3: 1. Dr. Roberts Blues Band - Tribute To Johnny Winter 2. Greenlight - Red House 3. Thrice Mice - Pig II SIDE 4: 1. Sphinx Tush - Crashville 2. Greenlight - Summer In The City
For the first time on vinyl, this is a compilation of German krautrock acts who played at a huge three day international festival held at the Ernst-Merck Hall, April 1970 in Hamburg. From Great Britain there were Colosseum, The Nice, Steamhammer and others. German acts were Tomorrow's Gift, Frumpy, Thrice Mice und and two virtually unknown bands: Beautique In Corporation, who later became Ikarus and Sphinx Tush with later Frumpy guitarist Rainer Baumann. Great and rare stuff! The double vinyl comes with insert including festival story and band stories. Highly recommended. SIDE 1: 1. Frumpy - Duty 2. Thrice Mice - Vivaldi's Revival 3. Beautique In Corporation - Going Straight SIDE 2: 1. Tomorrow's Gift - Sound Of Which SIDE 3: 1. Frumpy - Floating 2. Beautique In Corporation - Things We Said SIDE 4: 1. Sphinx Tush - Crashville 2. Beautique In Corporation - Sunwave (incl. Sing Hallelujah)
GARAGE/BEAT/SURF/ROCK'N'ROLL
Beat-Man teams up with LA/Mexican legend Izobel Garcia with her mysterious voice and gives you the full blast in blues trash and folk noir including obnoxious cover versions of Venom ('Black Metal'), The Doors ('Love Me Two Times') and Mexican folk noir icon Chavela Vargas ('Macorina')! This album is full of garage with weird rock'n'roll and cumbia!
The music of the Villejuif Underground is the result of happy accidents and unholy alliances, something that was never meant to be but became an astonishing fandango of sorts. Think Fat White Family covering Oingo Boingo with Beat Happening's gear. Think Beck's 'One Foot In The Grave' remixed by Daniel Johnston and Brian Wilson. Think Ausmuteants, the Spits, the Feeling Of Love or A Frames when they really nailed it. Especially now with the release of 'When Will The Flies In Deauville Drop?', their second album and the first one on Born Bad Records. Your stormy love story with the Villejuif Underground starts here. Be sure to enjoy it.
POP/ROCK/WAVE/NOISE
Vinyl edition. After the groundbreaking album 'The Trail Of Genghis Khan' written in collaboration with an Australian artist Cye Wood, Lisa Gerrard returns to Infinite Fog with long-awaited complete, extended edition of the album 'Departum'. Highest quality sound, ambient drifts, soft tribal rhythms, with touching melodies of the cimbalom and 144-strings yang chin played by Lisa Gerrard and transcendental vocals.
The queens of Queens, The Shangri-Las formed in 1963 in Cambria Heights. Made up of two sets of sisters from Andrew Jackson High School, The Shangri-Las hooked up with producer George "Shadow" Morton in 1964 and signed to Lieber & Stoller's legendary Red Bird Records label. Featuring songwriting credits from the Brill Building's dynamic duo of Jeff Berry and Ellie Greenwich, as well as future Band member Levon Helm, Ike Turner, and more, this is the group's second LP, and is pure NYC girl-group perfection. Reissued on 180 gram LP, this is absolutely essential for any fan of 1960s American pop music. SIDE 1: 1. Right Now And Not Later 2. Never Again 3. Give Us Your Blessings 4. Sophisticated Boom Boom 5. I'm Blue 6. Heaven Only Knows SIDE 2: 1. The Train From Kansas City 2. Out In The Streets 3. What's A Girl Supposed To Do 4. The Dum Dum Ditty 5. You Cheated, You Lied 6. The Boy
Following the success of their hit singles 'Remember (Walking In The Sand)' and the title track, The Shangri-Las, all still in their teens, released their debut album' Leader Of The Pack' in early 1965. With songs from Lieber & Stoller, Berry & Greenwich, The Isley Brothers, and more, this LP was absolutely THE sound of mid-'60s New York City. Nary a single teen party at the time, from coast to coast, and around the globe, happened without a dance to the album's title track. These four girls from Queens changed the landscape of pop music in the mid-'60s and this album still sounds fresh over a half century later. Essential girl group pop reissued on 180 gram LP. SIDE 1: 1. Give Him A Great Big Kiss 2. Leader Of The Pack 3. Bull Dog 4. It's Easier To Cry 5. What Is Love 6. Remember (Walking In The Sand) 7. Out In The Street 8. I Can Never Go Home Anymore 9. Right Now And Not Later 10. The Dum Dum Ditty SIDE 2: 1. Give Us Your Blessings 2. Sophisticated Boom Boom 3. Long Live Our Love 4. The Train From Kansas City 5. Twist And Shout 6. Maybe 7. So Much In Love 8. Shout 9. Good Night My Love, Pleasant Dreams 10. You Can't Sit Down
PUNK/HARDCORE
Canadian prairie punk by the three King brothers who moved out from Toronto in the fall of 1980 to become one of Calgary's earliest on the scene! The late Bob King's whitty and thought provoking socio-political lyrics transformed from bedroom acoustic songs into a flurry of wild wah-wah fuzz and shredding guitars with over tones of power-pop and hard rock. This carefully remastered mega-long EP reissues their impossibly rare four song 7" EP from 1981 with two unreleased demo tracks from 1982. Includes replica labels and sleeve plus a booklet with flyers, photographs and their story.
Legendary first wave punk rock from Newfoundland! This mega-long EP featuring two songs by each drummer, compiles the KBD wild screamer hit 'The Kid's Arrived' with three more distinct faces of The Reaction. 'Waiting In Line' is a powerful melodic rocker with journeys into psychedelia, 'Get The Rods Out' is a punk anthem about setting up local gigs, and 'Trials In Error' is unique '70s underground. Includes generous booklet with flyers, photographs and their story. A dynamic carefully remastered EP! 500 copies.
"Chris Hansell walks into a bar in Manhattan and orders a scotch on the rocks. He rummages in his pockets and hands over a ten dollar bill. The bartender is looking him up and down out of the corner of his eye as he reaches for a dusty bottle of Cutty and kind of makes a snap judgement that he probably has no clue how much a drink costs in this place. Deciding to take advantage of ol' Han, the bartender returns with a drink and hands him ten cents in change. "Funny seeing you here, we don't get many people who look like they sing for a band that sounds like 50,000 San Men on strike in July, all simultaneously listening to Mellaka, Sacrilege demos, lost takes of Mackie drumming on speed, Massacre 68, and just the faintest whiff of something St. Vitus might have written on their day off, in this joint" Faster than you can get your passport stamped into the tone-zone, Hansell replies "Yeah well at $9.90 for a glass of Cutty, I ain't comin back either!" (Jonah Falco) Comes in a deluxe 4-colour screenprinted fold out sleeve with artwork from Alex Heir, handstamped labels, an insert and stickered poly bag.
INDUSTRIAL/EXPERIMENTAL/NOISE/NEOFOLK/GOTHIC
Compilation of international mutant electronic underground artists. A tour around experimental electronics covering abstract rythms (Santiago, Black Zone Myth Chant), industrial new EBM beat (Celldöd, Klack, Violet Poison, Bässt), minimal wave (Circa Tapes, Sam De La Rosa) and the great collaboration between Sam De La Rosa and Kyle Dixon (Survive, 'Stranger Things' soundtrack). Limited edition of 260 copies.
METAL/STONER/HARDROCK
The true hell-spawn of West Coast Canadian speed metal - second to none! Pioneers of their genre, Witches Hammer played amidst the mid-'80s hardcore/crossover and thrash scenes surrounding the suburbs of Vancouver and after two successful demos decided to do a vinyl release. Recorded in 1987 at legendary Fiasco Bros studio and originally issued by Subversive Productions in a tiny pressing on 12" with just a paper sheet cover. Now carefully remastered and packed in a revised close-pocket sleeve featuring original cover art and a 12 page booklet with flyers, photographs and their story. A pinnacle moment for the group, wild Canadian speed metal. Thulsa doom! 500 copies.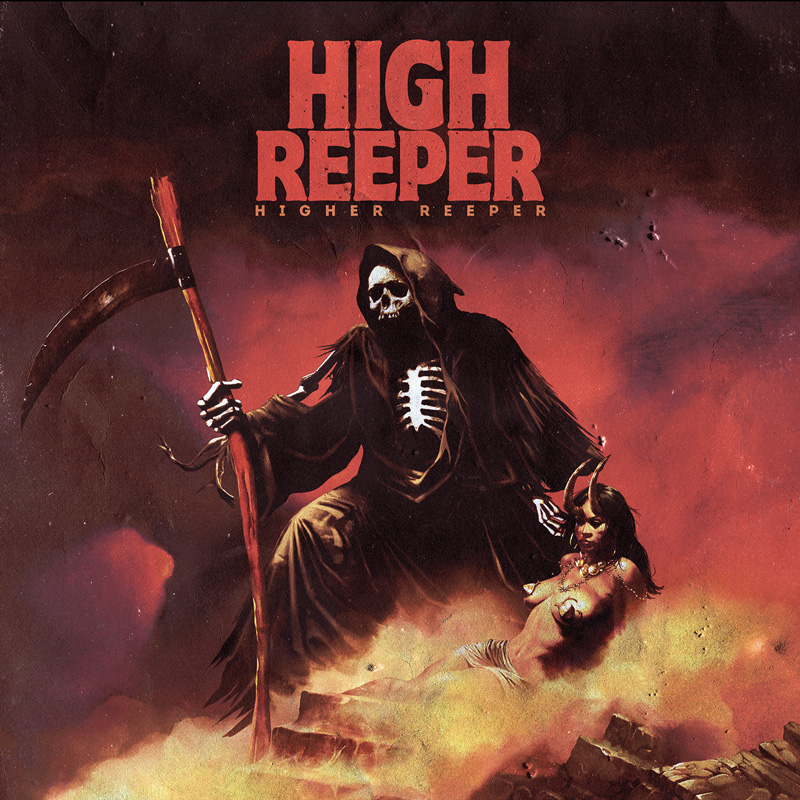 High Reeper is back with their second release 'Higher Reeper' and they aren't fucking around. The sound and smell of leather, weed and death now has a hint of Campari and cocaine to color all eight tracks. With the addition of their new drummer Justin Di Pinto, High Reeper has managed to focus their sound and expand it at the same time. The record is darker and heavier than their first offering with guitars that crush you like a tank and lyrics that paint a picture of the world nearing its end. While the sound of 'Higher Reeper' is more focused, at the same time it manages to be more complex and varied. With tracks ranging from ones as heavy as the album opener, 'Eternal Leviathan', to the ethereal ballad 'Apocalypse Hymn', this LP will take you all the way to hell and leave you there to rot. Black vinyl version.
These Nordic woodsmen from outer space create a blend of powerful fuzzy rock and melodic, groovy tunes. Expect more patented Sabbath-punkish riffs, and some fast and urgent tracks that are like a punch in your face. Fat, hard, stoner rock.
JAZZ/AVANTGARDE
A great organ driven jazz rock LP from the former republic of Yugoslavia, originally released in 1974, reissued on 180-GRAM VINYL. This edition comes with remastered sound.
A great organ driven jazz rock LP from the former republic of Yugoslavia, originally released in 1976, reissued on 180-GRAM VINYL. This edition comes with remastered sound.
Although discrete, the career of saxophonist Philippe Maté includes several indispensable albums. As for the man in the background, Daniel Vallancien, a sound engineer rarely featuring on the sleeves, the collection Actuel on the BYG label owes much to him (he is at the controls behind Anthony Braxton, Don Cherry, Sonny Sharrock or Steve Lacy). Behind this collaboration was the idea of creating music which was free, direct and spontaneous, while having also a minimum of advance planning.
'Kundalini' is an unreleased live recording of Hamsa. This French band with Richard Raux (ex-Magma) at his best in 1976 play an incredible and unique music, groovy, powerful, between funk and spiritual jazz, drawing on roots in African and Indian rhythms.
SOUL/FUNK/LATIN/R&B/GOSPEL
Here presented on vinyl is the second installment of the adventures of the Achilifunk Sound System with the one and only Gordo del Puru at the microphone. Prepare yourself for another episode of toxic rumba with impossible rap!
The well-known ornithologist Tom Stakhanov, traveling in the South-America for bird watching, discovered cumbia music brought by great female singers. This compilation contains 14 tracks from 1963-1983. TRACKS: 01. Supercombo Los Tropicales - El Arenal 02. Pacho Galan - Cumucuchando cumucuchito 03. Los Sonores De Gamero - Rosa 04. Combo Los Galleros - Soledad 05. Lucho Bermudez Y Su Orquestra - Colombia Teirra Querida 06. Avelino Munoz Y Su Conjunto - Papelito Blanco 07. Son Palenque - La Verdolaga 08. Los Sonores De Gamero - La Cumbia Del Negro 09. Supercombo Los Tropicales - Queja Negra 10. La Negra Del Ritmo - Yo Tengo Una Cosa 11. Los Bestiales - Palomitas De Colores 12. Avelino Munoz Y Su Conjunto - Compadre Pancho 13. Doris Salas - Ninfa Morena 14. Edmundo Salas Y Su Orquestra - Cumbia Del Caribe
ELECTRONIC MUSIC/AMBIENT/D'N'B/TRIPHOP
After his record debut in 2016 with Distopya -a work that caught the attention of international specialized media such as The Wire magazine- the electronic duo Güiro Meets Russia publishes its second LP 'Folk Psychology'. Juanvi Fortea and Paco León pick up the formula of analog synthesizers and electric guitars to revise in a very personal way the European proto-electronic heritage of krautrock and the rhythmic patterns of motorik. In this imaginary we find past references such as Neu!, Cluster, and more current ones such as Beak>, Kreidler or Boards Of Canada. It is an epic manifesto of collective despair. An emotional critique of the psychological mechanisms of mass manipulation in contemporary society.
Here's the first ever vinyl edition of the amazing electronic album 'Music By Xolotl', originally issued only on cassette by Unity Records in 1978. The responsible artist, Bernard Xolotl, was born in France in 1951. As a teen, he was introduced to electronic music through the works of musique concrete composers like Pierre Henry and Pierre Schaeffer, although he found the early recordings of Pink Floyd to be more inspirational. This is an edition of 500 copies, including a bonus 7-inch and an insert featuring photos and liner notes.
SOUNDTRACKS/LOUNGE/CULT ETC
Originally dating back to the '70s, now back on vinyl, 'To The Land Of No Return' is an outrageous and nightmarish collection of sound vignettes that pushed the capabilities of the legendary ARP 2600 synthesizer to the limit. Thrilling, uneasy, surreal, spellbinding or just plain spaced out, this is an essential slice of musical lunacy coming from the most experimental fringes of the French library world! This edition, with remastered sound and reproduced artwork, is limited to 500 copies.
Blog
Previous editions:
10/09/2019 08:05 SPOTLIGHT 36
30/08/2019 10:49 SPOTLIGHT 35
22/08/2019 16:51 SPOTLIGHT 34
16/08/2019 13:40 SPOTLIGHT 33
09/08/2019 12:50 SPOTLIGHT 32
26/07/2019 13:50 SPOTLIGHT 30
19/07/2019 09:55 SPOTLIGHT 29
15/07/2019 09:44 SPOTLIGHT 28
05/07/2019 16:29 SPOTLIGHT 27
01/07/2019 10:57 SPOTLIGHT 26
24/06/2019 14:15 SPOTLIGHT 25
18/06/2019 08:23 SPOTLIGHT 24
09/06/2019 19:32 SPOTLIGHT 23
04/06/2019 09:28 SPOTLIGHT 22
27/05/2019 10:56 SPOTLIGHT 21
20/05/2019 10:57 SPOTLIGHT 20
14/05/2019 08:35 SPOTLIGHT 19
07/05/2019 12:41 SPOTLIGHT 17 & 18
23/04/2019 08:39 SPOTLIGHT 16
15/04/2019 08:11 SPOTLIGHT 15