SPOTLIGHT 42
23/10/2018 08:11
Welcome to the Spot Light. Check out the latest psychedelic, cosmic, prog, freakbeat, folk, kraut, experimental, jazz, drone, mystical, and avant-garde sounds! https://www.shinybeast.nl/blog
PSYCHEDELIC/PROGRESSIVE/FOLK
More than 200 different releases of this album yet but not a single one like this incredible object like Six Tonnes De Chair knows how to do. Double 12 album cut at 45rpm, personalised mastercut, hand-made jacket with special revisited artwork hand screen printed on heavy weight pearl paper. Beautiful and unique! 200 copies.
This is actually the fourth Manticore's Breath full length album. A great Greek psychedelic progressive rock album in deluxe thick ultra heavy gatefold paste-on cover, limited to 300 copies on blue vinyl. Includes a bonus 7" with 2 extra tracks.
Dating back to 1978, these are live recordings of two legendary French underground acts. Camizole blended free jazz with a touch of Klaus Schulze, whereas Lard Free was known for its brand of psychedelic/progressive jazz rock, not unlike Soft Machine. This is a vinyl edition of 500 copies, coming with an obi strip.
If Cannibale's members brought their breakfast back up when talking about 'Not Easy To Cook', their listeners would be surprised. There's a world of difference between the beginning of Cannibale's success story and this second album. The most surprising thing about 'Not Easy To Cook' is the sultriness that emerges. It's hard to sum it up other than by comparing these 10 songs with some pressure cooker in which bits of dancehall, London ska and Hawaiian dub would have cooked together. Here's the small miracle achieved by this LP recorded by the band in its remote French village: sounding French, but Polynesian French. A very psychedelic mixture of cumbia, African rhythms and garage music. Or, if you will, a kind of missing link between Fela Kuti, The Doors and The Seeds!
Reissue on double white vinyl in single cover. A deep journey to your inner worlds. 2 "songs", together more than 66 minutes, pierce deep into your subconsciousness, while the music stops being only music. Recorded in the beginning of 2011 and released in small quantities as CD-R once, and on proper CD and LP in 2012. Fasten your seatbelts and enter this spaceship - but be careful, you will be addicted right now.
There was a thread in American music in the late 1960s that someone untangled across the U.S., then stretched over to Europe, where it took root in '80s shoegaze. It ties together bands as disparate as the 13th Floor Elevators, the Velvet Underground, Spacemen 3, Mazzy Star, Blonde Redhead, and Sonic Youth. It's noise rock or psychedelic or shoegaze or doom. It's the down-tuned sound of chaos and beauty, and while no one was looking, it also worked its way through the Americas and took root in Brazil under the name Firefriend. 'Yellow Spider' is pressed on translucent yellow Vinyl presented in a 350gsm reverse board sleeve sleeve with insert and download. Only few available, so order fast!
Recorded back in 2014. Demian, Tom and Val were the members making up The Oscillation on this recording, a 3 piece par excellence as you can hear in this recording captured in Brussels. 60 minutes of incendiary kraut-a-delic as The Oscillation succeed in tearing a hole in the universe. A 250 worldwide pressing.
Swiss psychedelic fuzz rock trio Sons Of Morpheus have teamed up with Berlin-based stoner rock act Samavayo for the split release titled 'The Fuzz Charger'.
The debut album from Wollongong's heavy psychedelic outfit Velvet Elevator. With guitars set to open C and amps, cabs and fuzz pedals set 11 Velvet Elevator build a wall of sound so dense that at first it may seem too big to fit into your ears. Covering themes of Anthropomorphism, Religion and Armageddon and focused roughly on the Revelation chapter of the bible the two closing tracks of 'Principium' tell the story of the Blood Moon which is traditionally a series of apocalyptic beliefs appearing in the bible. Velvet Elevator bring the dirge but they show there garage chops with a sound the shares comparisons to The Heads and Sabbath and of course The Wiz as tracks delve into drone, psychedelia and doom. Heavy isn't about volume, it's about attitude and these Wollongong boys have it. A 300 pressing on blood red and black swirl vinyl. Presented in a 320gsm gloss laminated wide spine sleeve with download code.
2018 studio album by one of the greatest Japanese psychedelic bands! LP version comes early 2019.
Radio broadcast live recordings of Donovan at his best, presented on CD with excellent sound quality! Included are renditions of a.o. 'Catch The Wind', 'Mellow Yellow', 'Universal Soldier' and 'Runnin' From Home', and there's also an interview excerpt.
'Dreams From The Shadow House' is the 9th album from The Infinite Trip, a band from the UK who blend psychedelia into a hybrid mix of psychedelic rock, krautrock, progressive rock and ethnic and ambient. In fact anything that makes the music trippy and otherworldly is used in a unique mix by a band that sounds unlike any other, although you will hear some obvious influences also. Limited to 500 copies.
'Ahoy! Side A' is the first part of a whole work called 'Ahoy'. It contains five new songs and four older works, "repainted". A story about pain, fear, beautiful relationships with nature and the struggle of the human condition. The most band oriented album so far, exploring a more lush sound world than before.
Founded near Paris by Mad Rabbit (singer and producer) and Duck Feeling (multi-instrumentalist), The Snobs produce experimental rock records since 2003. After the two collaborative albums with New York poet Steve Dalachinsky on Bam Balam Records, the French duo is coming back with 'A Life Aglow'. Full of analog synthesizers, Rickenbackers, pianos, sitars and mellotrons, this album is a pop psychedelic journey loaded with colorful influences.
GARAGE/BEAT/SURF/ROCK'N'ROLL
Old school, melodic punk without frills, and eighties touch from this Louisiana, New Orleans band. 200 copies on black vinyl. Hand screen printed cover.
Hamburg heartbreakers The Cheating Hearts are back with a 4 track EP, containing more songs of love and hate for today's 21st century dysfunctional lovers and cluster B types. The EP is a follow up to their sold out 2016 LP 'Fuck Love' and is guaranteed to drive listeners wild with desire as they seduce you once again with their trashy songs of lust and bad romance. Love is a drug, Rock'n'roll is the medicine. Limited to 300 copies on pale blue vinyl in nice high quality thick sleeve. SIDE 1: 1. Alright 2. Bad Habit SIDE 2: 1. Gimmie Gimmie 2. Got To Be My Lover
If the Grateful Dead were punks in prog band, they might have sounded a bit like this. 200 copies on black vinyl. Hand screen printed cover.
Merle recorded these two tracks in 1954 for Imperial Records, a company with whom he would release his first singles under his own name. Although country & western is the main ingredient, the rockabilly guitar and slappin' doublebass would become familiar with his releases. 'Everybody Needs A Little Lovin'' and 'Ernie' are good examples.
Released with exceptional sound quality, this is a CD-collection of archival radio broadcast live recordings featuring the UK's '60s r&b and beat band. Included are renditions of 'Try It Baby',' Don't Put Me Down', 'I Have Cried My Last Tear', 'Maggie's Farm', 'Use Me', 'Do The Boomerang', 'Ain't That Lovin' You Baby', 'Crazy Bout My Baby', 'You Got It Made' and many more.
'Las Venas'/'Ay Tus Ojos' is the debut 7-inch of Málagan garage-punk-pop band La Trinidad. The band bears the name of the old working class neighborhood of Málaga, the hometown of the band. The period that marks the end of the regime of general Franco to the transition into democracy is a great source of inspiration for La Trinidad. From the subversive poets to the ultra-violent and sex driven Quinqui film movement. Intelligent and dark lyrics with touches of black humor and a sound and attitude that's shaped by national bands such as Biznaga, Parálisis Permanente, Futuro Terror and international bands such as Ty Segall, Iggy & The Stooges and various '77 punk bands.
Les Robots are programmed masterminds D.V.R. and R-JoHN backed up by their live assisting bots Pete-R and C.A.S.E. Who programmed these robots? That's officially unknown and unofficially classified, though people do speculate that it might be legendary producer Joe Meek. Whoever or whatever programmed these mechanical men does have a soft spot for mental earthlings like The Shadows, The Ventures, Terry Terauchi, Booker T & The MG's, Link Wray and various composers of sixties cinema soundtracks.
This Rotterdam (NL) four piece met up to start a post-punk band, but gloriously failed. What came out was a raw mixture of garage, punk and surf served with vulcanic violence. An eruption of musical perversity and fury.
On 'Boom Cha-Cha Boom' you'll find Esther & Los Twangs' usual rock'n'roll, garage and surf sounds and also Latin beats, rhythm & blues and a pinch of European female '60s pop. Produced by Ely Agramut and Los Twangs.
With 5 7" releases and a 12" mini album (all sold out) Trash Wax thought that it was about time he had a full length album out. Recorded during the chilly months in Southern Sweden at the Grave Cave Studio in the first part of 2018, Lee (also one half of Thee Gravemen and ex-Branded) played all the instruments, recorded and mixed the album himself using vintage analogue equipment which gives these recordings an authentic '50s, early '60s feel. Drawing on early rockabilly and R&B influences this should appeal to fans of both genres as well as folk already familiar with his previous releases. The fine artwork is by Chris 'Sick' Moore. Limited to 500 copies.
The debut album finally here! Dead Ming (Dead Elvis), Bald Ming (Sir Bald Diddley), Wild Ming (Marky from Dead Rocks) deliver one hell of a blistering LP. 11 tracks of incredible, shit kicking garage punk, from the killer 'I Lied' which sounds like a '65 lost Texas punk gem to the surf influenced crazed trash of 'Out Of Sight' or their take on the uber classic Los Saicos 'Demolicion' ('Decapitation'). All Killer, absolutely no filler! Not a paisley shirt or pointy boot in sight! This one is limited to 500 copies, but order fast!
Reissue of 'At Home With Satan's Pilgrims', the very first full length Pilgrims album originally released in 1994 on eMpTy Records. Even on their first album, the Pilgrims came out of the gate with some of their best loved original songs, such as 'Surf Lyre', '¿Que Honda?', and 'Petty 43'. The cover songs they chose show their allegiances. Rather than going for the Dick Dale style that was about to reintroduce the world to surf music via 'Pulp Fiction' (which was released into theaters not long after the release of 'At Home With Satan's Pilgrims'), the Pilgrims chose a more band oriented style as they covered The Bel-Airs, Eddie & The Showmen, The Rondels/The Challengers, and having three guitars, The Astronauts...natch! Limited to 350 copies on black vinyl.
'14 FUZZY AND GROOVY FRENCH CUTS FROM THE SIXTIES' - Never before reissued and compiled on vinyl! Incredible covers and fantastic originals! Songs about Mao, catwomen, drugs, sex, the devil and elevators! Garage punk monsters, dance ravers, organ driven soul and psyche pop! It's May 68 again, a French revolution on the dancefloor, a record guaranteed to fire up any sixties party! SIDE 1: 1. Claude Channes - Coulez moi 2. Nicky Nicolas - Pour Les Miss 3. Monty - J'ai Traversé L'Enfer 4. Santa Maria - Donne Moi Ton Coeur Et Ta Fleur 5. 5 Gentlemen - Je Te Veux 6. José Salcy - Les Filles Chats 7. Gammas - Satisfaction SIDE B: 1. Claude Channes - Mao Mao 2. Françoise Deldick - Le Diable De Près 3. Carine - L'Insatisfait 4. Jocelyne - La La La La La 5. Les Players - Les Indiens 6. Les Fleurs De Pavot - Super Girl 7. Norman "Gagman" Gang - L'Ascenseur
POP/ROCK/WAVE/NOISE
New Vogue is the project of Max and Chance (ex-Sonic Avenues). All songs written, recorded and produced by Max and Chance under the influence of Talking Heads, The Fall and Swell Maps.
PUNK/HARDCORE
Jackson Politick is the solo project by the ever talented Andy Human. This 7" shows a more versatile flavour in Human's songwriting style. 'Psycho-Mania' kicks in with oscillating synths and instantly recalls a strange hybrid of sounds influenced by such groups as Chrome and Roxy Music combined with sniggering vocals and punk-as-heck lyrics. On the other side, 'Well-Adjusted Australians' recalls a lo-fi sound and songwriting style, recalling many-a-New Wave single from the the years 1981-86 but particularly sounding akin to something from 'The Painted Word'-era Television Personalities catalogue, the lyrics showcasing a sarcastic wit yet musically conveying a melancholic feel with reverbed guitars and casio keyboard lines.
INDUSTRIAL/EXPERIMENTAL/NOISE/NEOFOLK/GOTHIC
For this collective release, Martijn Comes and Giulio Aldinucci neither worked in the same studio together, nor did they share and exchange materials. The two pieces on this LP were composed privately and without any sonic input of the other. And yet, it is far more than just a 'split'. Both pieces were loosely based on a pair of opposites first proposed by Nietzsche: The moral codex of society, as represented by the Christian church. And the realisation that only by surrendering completely to emotion can we live life to the fullest. Using a single field recording of a procession in rural Tuscany, Aldinucci investigated how sacred rites are capable of defining new soundscapes. Blazing a trail through three distinct sections, Comes' 'Crystalline Tragedies', meanwhile, takes strong feelings evoked by certain life passages into a poetic dimension. Never particularly strict or academic about their inspiration, the same conceptual source lends a strong sense of unity to the music - making it.
Working with his own, specially crafted electronic instruments, Hugh Davies -who had previously worked with Stockhausen- generates soundscapes that are at times whimsical, ritualistic and profoundly playful. There is a certain magic, a celebration of sound and soul, in these recordings from the Claxon Celuid Festival and the `Workshop Freie Musik'. This album is part of the reissue series of long-lost classics from the legendary vaults of FMP Records, presented in restored original packaging and newly remastered for optimal sound. Originally released in 1982. Limited to 500 copies.
Garrett List's work for Opus One, in 1972, was a remarkable creative effort, conceived like a celebration of a higher self-consciousness. The context is avant-garde minimalism, but the music is enriched by a deep spiritualism; it echoes the most meditative jazz of the age, taking also advantage from the mystic lesson of La Monte Young. Everything is solved in a free, moderate and brilliant language, pure and elegant. It's quintessential, in these rare moments of beauty, the instrumentation of the voices and the relative interpretation of the text. The sibilant female chant is lost in an intimate and ethereal recitation, wrapped by the drones of the horns and the dripping notes of the piano and vibraphone. It's the ideal atmosphere for an impalpable ecstatic way, the echo of a secret dialogue with the inner cosmos. List seems to condense perfectly all his emotional and transcendental sound universe, making Your Own Self, non only a seminal work, but also a radiant message of total harmony.
Rough & Wojtyla's drones are supported by a tentative jazz drum beat and Richard Pinhas' guitar. In perfect harmony, the 3 musicians don't take themselves seriously. They saturate their sonic world with long abstruse silences, before returning more furiously into the barely hidden chaos. The listener is constantly pushed around, always looking for something to hang on to without ever finding it.
This milestone of the avant-garde music, published in 1974 by the historic Opus One, was a very significant political awareness. With 'Coming Together' and 'Attica', Rzewski celebrates in music the famous revolt of the American prison in 1971. The texts of Sam Melville and Richard X. Clark make pulsating and alive the invocations of the prisoners; full of pathos, these fragments of life oscillate between a confessional tone and the hymn to freedom, in a touching emblem of compassion. The fixity of the sound images is incisive, unnerving and melancholic, embroidering a solid minimalist repetition. The different combination of the verses produce a psychosis or obsession of a cathartic experience, at the same time emotional, physical and mental. Together with great guests such as Alvin Curran, Jon Gibson, Garrett List and Karl Beger, Rzewski seems to merge his radical vocation with the most meditative and suffered plots of the spiritual jazz; sealing all with 'Les Moutons Des Panurge', an amazing suite for percussion, a timeless masterpiece of polyrhythmic expertise.
Animated since 2000 by Carlo Crovato, Radboud Mens, Jens Alexander Ewald and Geert-Jan Hobijn, Staalplaat SoundSystem ('Floating Mind') has organized a pre-programmed procession of tuk tuks with their horns hooting; has staged an army of washing machines and a ballet of vacuum cleaners; has grafted recycled engines on trees; has erected steel tubes resembling battleship cannons, converted into organs under the heat of burners; has built a Meccano in recycled plastic (bottles and PVC), which floats on the water and releases a plaintive drone ('Floating Mind'). These ephemeral experiences only last the time of an exhibition, an event, hence the need to document, to embed the sound of these singular creations. After 'Composed Nature'/'Yokomono-Pro' in collaboration with Lola Landscape Architects (AM Editions, 2011), this record is the second "sonic photography" of Staalplaat SoundSystem, which gives us an idea of some of its works.
The histrionic Swedish artist Isak Sundström (Rocks & Waves Song Circle) embraces the fascinating sound world of the "spoken word", infusing new expressive perspectives to this genre with original sensitivity. These five vocal dramas are based on the subtitles of some films by Douglas Kirk, texts that describe the sound effects and events that occur outside the screen. But the result is rather that of a new dissolved narrative, of another space that explores the boundaries of emotional imagination. In this way, the poetic interest seems to fall on the totality of human existence, in an open dialectic between earthly and supernatural, profane and religious, nature and divinity, heaven and hell, light and darkness. The atmospheric frame is supported by an electronic carpet, drops of piano fall soft and slow, while the modulations of the voice are enriched and intensified by a colorful orchestra of percussion and wind instruments. The narrator's voice of Vincent Williams has something of the typical "black" vocal emphasis of American spiritual jazz, but which alternate with moments of pathos and ecstatic transcendence typically Nordic and European.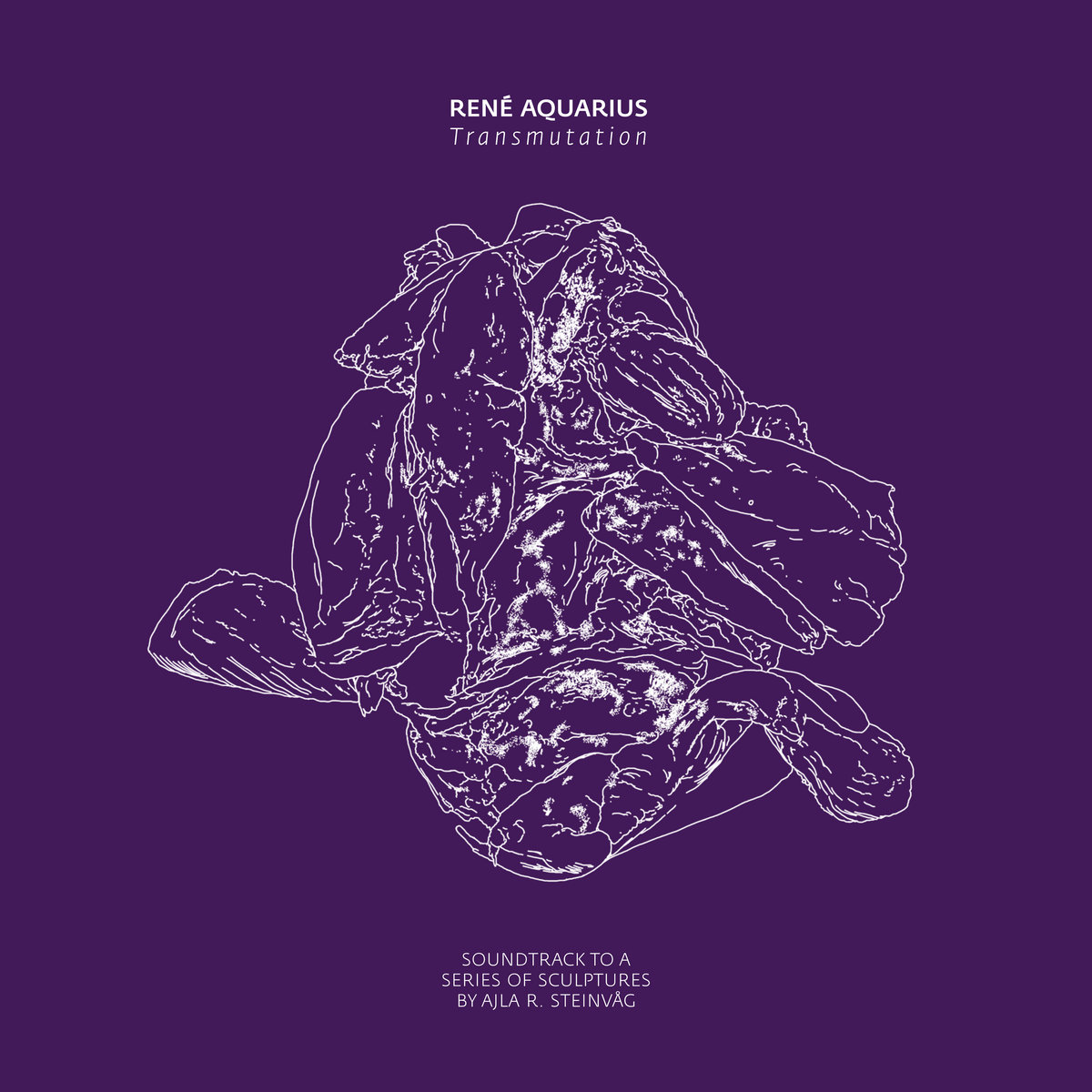 'Transmutation' is the soundtrack to a series of sculptures by Ajla R. Steinvåg. A conversation in 2016 between musician René Aquarius (NL) and artist Ajla R. Steinvåg (NO) acted as a catalyst for an intense collaboration in which the medical and the artistic world fused. Both artists have a medical background: Aquarius as a medical scientist, with a focus on bone and blood vessel pathology, and Steinvåg as a casualty special make-up artist and actor. Inspiration for both the sculptures and the compositions is the process of metal particle accumulation in the human body. This process can drive cells to activate inflammatory pathways, programmed cell death and subsequent encapsulation of dead tissue. The sculptures and soundtrack together form a multi-media installation, were presented for the first time in September 2018 at the Temporary Art Centre in Eindhoven, The Netherlands.
Distel's self-applied tag 'ultra/angst pop' could now be redefined from the original industrial-based minimal electronics into a unique contemporary strain of high energy synth-pop-noir, or 'dark energy'. A quite evocative mixture of excellent subliminal rhythm machine programming, predominant purging keyboard lines and swirling spectral vocals result in twisted dark wave pieces with a catchy approach carrying an overwhelming, coercive energy.
'Ferocious' contains a batch of eleven sonic assaults to batter the listener's mind and body. A powerful, dark and transcendental album which displays a powerful meld of classic power noise industrial and contemporary progressive technoid elements, suitable for both industrial and techno fans.
An aggressive, yet melodic release of great diversity showcasing a wide variety of styles and influences where industrial music of the highest quality sets sail into IDM territory. This album contains a unique and intelligent fusion of sinister ambience, wailing electronics and deep reverberated martial percussion on a bed of distorted glitches and droning pads. Frenetic grooves, precision samples and angelic female voices transmit cinematic, disarming atmospheres in which melodic motifs are perfectly in balance with the harsh sound architecture.
'Merzopo' is a collaborative 2CD album of Japanese noise legend Masami Akita alias Merzbow and a Czech seven-member ensemble called Opening Performance Orchestra, based in Prague. The first CD contains four compositions by Merzbow. The second CD contains two live tracks from Opening Performance Orchestra which were played live in Tokyo and Prague in 2017 and studio edited at the end of 2017 and the beginning of 2018. No melody, no rhythm, no harmony, this is fraction music.
'Still' is an album on which Synapscape review their past in a unique manner: eleven tracks originally recorded between 1994 and 1999 were chosen and then resurrected as entirely re-recorded versions, transforming the spirit of the archetypes into contemporary sounding works of art. While choosing the tracklist, the focus was on the project's rhythmic side, presenting its ability to create relentless dance tracks with an energetic industrial force that has been in place since the beginning. A wealth of different grooves and hypnotic sequences carry aggression and depth, topped by Tim Kniep's characteristic voice which is now considerably clearer, compared to the original versions.
METAL/STONER/HARDROCK
Originally released on the band/project's own Eargasm imprint, the 1985 album 'Salem's Rise' by Ohio-based Witch now returns to vinyl. Back in the day the album sold out in no time, and fans of mid '80s quality heavy metal have been searching for original copies for years. And in case they managed to trace one, it would cost them hundreds of dollars. So grab your chance and get 'Salem's Rise' without going bankrupt now you still can.
BLUES/COUNTRY/OLDIES
1962 marked a new era for George Jones, it was a time for change in his singing style, which would prove to be an influence on many others. He began to sing in lower registers and together with his distinctive phrasing, it gave him a new sound. Jones took his first steps on United Artists in January of 1962. 'Root Beer' and 'Slave Lover' are now released on 7" for the first time.
JAZZ/AVANTGARDE
The challenging music on this session from Chet Baker's final decade inspired him to come up with soulful, atmospheric improvisations. He plays with beauty and elegance, and his late career trumpet sounds superb. This is the second album in the reissue series of long-lost classics from the vaults of Enja Records, newly remastered for optimal sound. Originally released in 1982. Limited to 500 copies.
This is a vibrant and exciting album, a lively document of early free music. Drummer Pierre Favre was interested in space and jagged rhythms at the time, with Irene Schweizer adding creative lyricism and Peter Kowald's fat bass lines pulsing through the complex music. This is the first album in the reissue series of long-lost classics from the legendary vaults of FMP Records, presented in restored original packaging and newly remastered for optimal sound. Limited to 500 copies. Originally released in 1969, and reissued in 1979.
This 1964 record is a typical instrumental post bop album still not on the verge of progressive and free jazz filled to the max with memorable yet steaming compositions. This should have been a shining crown jewel of jazz where swing benignly turns into bop. The new and often more radical streams within the genre just oppressed this development and 'Boom-Jackie-Boom-Chick', of which the title was inspired by the name of Mr. Gonsalves regular heroin dealer, became an underground classic for those who like to dig deeper into a genre to discover the real treasures. This is pure magic put into music!
REGGAE/DUB/SKA/ROCKSTEADY
The Slackers' musical style is distinct from their contemporaries; a mix of early Jamaican music with classic '50s and '60s American styles. There are influences from rock'n'roll, rhythm and blues, jazz and Latin music. 'Wrongful Suspicion' is a tune that singer Vic Ruggiero wrote with Tim Armstrong and appeared on the Rancid album, 'Life Won't Wait.' Dave Hillyard played saxophone on the original track and did the horn arrangement. With it being the 20th anniversary of 'Life Won't Wait', the Slackers have revisited the tune and its still timely lyrics. The song's critique of right wing politics and its flag waving charade covering up a deeper moral and financial corruption still rings true.
'Burrulero' is a 4 song EP featuring the 2016 European lineup of Rocksteady 7. They pulled up into Nico Leonard's studio in funky funky Charleroi and proceeded to lay down the music, mostly live. Burrulero is half Burru and half Bolero. The Jamaican version ('Burrulero Jamaicano') is slow and moody. The Latin version ('Burrulero Latino') is uptempo and aggressive. 'So Long Cedric' is a memorial/tribute to the legendary Jamaican sax player Cedric Brooks. 'Kingston Town' features the crooning vocals of Larry McDonald. His voice is a throwback to the sensitive sounds of Billy Eckstine and Joe Williams.
SOUL/FUNK/LATIN/R&B/GOSPEL
Reissue of 1965 funky instro-soul album from Chicago that originally came out on Mercury. It deals with new interpretations of James Bond themes and own Bond inspired compositions. Featuring studio musicians Clarence Perry (tenor), Richard McCrea (organ) and Ed Townsend (piano).
Reissue of 1966 R&B album by Fontella Bass originally released on Checker. Among others it contains her biggest hit 'Rescue Me'. This album also charted on the pop albums chart, being listed for 8 weeks, with a highest position of #93.
ELECTRONIC MUSIC/AMBIENT/D'N'B/TRIPHOP
Taped at various occasions and places in France, throughout 1977, this DOUBLE-LP offers essential live recordings from the French underground cult act that started off as an avant-garde unit of sorts, but then developed in a Berlin School influenced direction. Released in an edition of 500 copies, the LP's come with an obi strip and an 8-page booklet.
'Le Songe De Kepler' from Paris based duo CITE LUMIERE was initially released on cassette only via the fabulous French label Err Rec, in December 2017. With barely a second listen required, PY picked up on it and are delighted to release it on wax for the first time; filled out and expanded slightly with remixed tunes and with fabulous new sleeve art to boot. Eleven mighty pieces of minimal synth/electronique pop, which tip their cap to those trailblazing early synth pop releases via early Mute/Blackwing Studios, Some Bizarre, early Cherry Red and those great Celluloid label releases in France which paved their own minimal synth course from the late seventies.
This LP from Brooklyn duo LONG DISTANCE POISON follows a slew of releases on Hausu Mountain, Oxtail Recordings and previously Ecstatic Peace, not to mention the sold out 'Human Program' LP on DD in 2015. 'Astro Topoi' opens with the long form work 'Ausunya,' a shifting space that slowly mutates from layering drones to spectral howls to heavy waters and finally rhythmic minimalisms. Side B begins with the raw drones of 'Liminal Diamond' giving way to a weirdo blues scape that transform into blissful and shimmering horizons before reducing down to essential funk. The keystone and third song, 'Blue Umbra,' plays with different forms of random in order to create simulated forms of pop that inevitably come undone before imploding into krauty, medieval modalities. 'Astro Topoi' is cosmic music without any preconceived notion as to what the cosmos is, or whether or not it even exists. Space music without the idea of space. Each song is the expression of the unpredictable play of Nathan Cearley's modular synthesizers, Erica Bradbury's analog keyboards, and a variety of broken old analog equipment including an old Arp Omni, Moog Satellite, Opus 3 and Mini. 300 copies only.
For his inaugural LP for Moving Furniture Records the Amsterdam based Swedish sound artist BJ Nilsen turns his intense aural focus and compelling narrative power away from his well-known and much lauded predilection for field recordings of organic nature or the urban built environment. The five pieces presented on this record capture Nilsen during a short residency he did in the Fall of 2017 at Willem Twee Electronic Music Studio in Den Bosch, The Netherlands - five documents these are of improvised sessions using modular synthesizers, tone generators and test and measurement instruments.
The classic 1978 masterpiece by the French abstract, experimental and improvisational underground unit, reissued on vinyl in an edition of 500 copies. The LP's come with an obi strip and a 4-page booklet.
"'Saxophone Studies' is an album that took multiple years to form. Already in 2006 I asked friends and other musicians if they could send me audio files to make music out of this. This music never really happened, but one of the files I received was some saxophone recordings by James Fella (Soft Shoulder/Gilgongo Records). In 2017 while browsing my computer for audio files I came across this recording and finally took it up to create work from this. Straight from diving in these recordings I had a clear goal for these recordings. The result is a 17 minute long piercing drone work where due to the use of multi-layering and rough cutting a psychedelic effect takes place. The "non-harmonic multitones" collide with each other in the room but also your ears to create a mesmerizing mind fuck. After this track was finished I was eager to create a second piece for saxophone, and I was really happy for this to work with my father. So late December 2017 I brought my recording equipment to my parents where my father played his various saxophones for me. In this work, which is very bass heavy, I worked with all different saxophone sounds but the focus lies on the baritone. Again with multi-layering and here also phasing of the sounds a slow evolving piece grows and grows. Other than the first piece here I wanted to create a more relaxed listening experience, though still when you dive into the details strange patterns appear with beating sounds, from which in the end the melodic parts of the saxophone slowly emerge". ~Orphax
'MUSIC FOR TV, RADIO, FILM, MUSICAL ILLUSTRATIONS' - First solo album by Patrick R. Pärk (Kosmonaut). A collection of ambient desert soundscapes, slowburn mind meditations and motorik cacophonies. The album provides a soundtrack to lazy hazy afternoons falling asleep in a car during never ending cross country road trips. There is a wonderful, woozy precision to the construction of these pieces, which are intended as sonic backgrounds for film, radio and television. But you might just be able to utilise them as a soundtrack for life. Housed in a beautiful sleeve by Bristol based designer Graeme Swinton. A homage to the ultra-weird and vibrant library soundtracks of the 1960s and '70s. Originally released in 2017 on limited edition cassette by OTA (Portugal).
AFRO-BEAT/FUNK & PSYCH/DESERT BLUES/ETHIOPIQUES
First official reissue of this Nigerian disco-boogie album by Peter Abdul, originally released on EMI Nigeria in 1984. Groovy weird Italo disco like tunes! Sound restored at Colin Young in the UK. Limited to 1000 copies.
Blog
Previous editions:
19/07/2019 09:55 SPOTLIGHT 29
15/07/2019 09:44 SPOTLIGHT 28
05/07/2019 16:29 SPOTLIGHT 27
01/07/2019 10:57 SPOTLIGHT 26
24/06/2019 14:15 SPOTLIGHT 25
18/06/2019 08:23 SPOTLIGHT 24
09/06/2019 19:32 SPOTLIGHT 23
04/06/2019 09:28 SPOTLIGHT 22
27/05/2019 10:56 SPOTLIGHT 21
20/05/2019 10:57 SPOTLIGHT 20
14/05/2019 08:35 SPOTLIGHT 19
07/05/2019 12:41 SPOTLIGHT 17 & 18
23/04/2019 08:39 SPOTLIGHT 16
15/04/2019 08:11 SPOTLIGHT 15
09/04/2019 09:14 SPOTLIGHT 14
02/04/2019 08:32 SPOTLIGHT 13
26/03/2019 08:16 SPOTLIGHT 12
18/03/2019 08:50 SPOTLIGHT 11
12/03/2019 08:05 SPOTLIGHT 10
05/03/2019 08:36 SPOTLIGHT 9